Malaysian companies in $10bn Mideast projects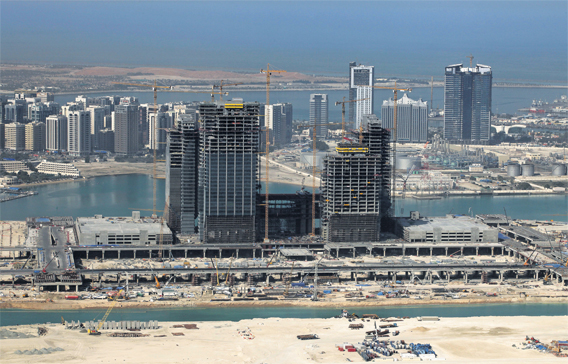 Malaysian contractors are working on 51 projects worth $10 billion (Dh36.7bn) in the Middle East, according to the Malaysia External Trade Development Corporation (Matrade).
Majority of these projects are in the UAE, Saudi Arabia, Qatar, Bahrain, Oman, Syria, Iran, Jordan and Yemen, it said in a statement yesterday.
In value terms, the Middle East contributed the highest share of 42 per cent among the 614 overseas projects worth $24bn in which Malaysian contractors have been involved during the period from 1997 to 2009.
Construction companies in Malaysia foresee substantially improved demand from the Middle East as infrastructure outlay continues to top national budgets and expanding populations seek high quality, cost-effective living and amenities in the region, said Matrade.
"Malaysian expertise in infrastructure building have been deployed in 73 projects across the Middle East, including landmark initiatives such as Burj Khalifa, Al Reem Island, Dubai Metro, Dubai Mall and Meydan Race Course," said Dzulkifli Mahmud, Senior Trade Commissioner at Matrade and Trade Consul of Malaysia in Dubai.
The Business Monitor International estimates that the global construction industry, re-emerging from the clouds of the global economic slowdown, could grow between one per cent to more than five per cent up to 2014, chiefly on account of growth in the Middle East, North Africa, China and India.
Malaysian construction companies, which already have an international project portfolio of $15bn, are aiming to lead this revival in key markets. Accordingly, the Malaysian construction sector will attend the third Malaysia Services Exhibition (MSE 2010) being held at the Dubai International Conventions & Exhibitions Centre from the April 13 until 15.
MSE 2010, organised by Matrade, will showcase the capabilities of Malaysian companies specialising in eight service clusters – Professional Services; Oil & Gas; Construction; Information and Communications Technology (ICT); Healthcare; Franchising; Education and Specialised Training, and Financial Services.
The three-day exhibition will be attended by 150 establishments including 130 service providers, 12 professional associations and eight government agencies.
"Our construction expertise is currently being exported to 49 countries worldwide. The unique advantages we offer in terms of resources, skills, quality, cost and experience in mega projects give us a competitive edge over leading providers in the US, Europe and other Asian countries. MSE 2010 is the right time and place to attract attention to these advantages as the Middle East construction sector is getting back on track," added Dzulkifli.
A major addition to Malaysia's construction services portfolio at MSE 2010 will be environmentally friendly architecture and engineering. An 'Eco Oasis' set up at the exhibition will provide an overview of green building technologies developed and deployed by Malaysian companies.
Follow Emirates 24|7 on Google News.