Memon breaks ground on projects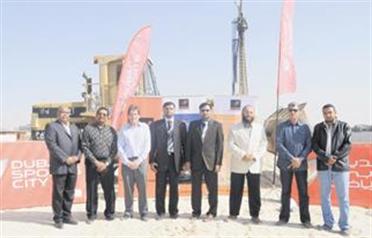 Memon Investments, the Dubai-based property developer has broken ground on two of its latest projects, Champions Tower IV (CT IV) and Frankfurt Sports Tower I (FST I), located at Dubai Sports City.

The projects are collectively valued at Dh788 million and the foundation works will be executed by Stromek Emirates Foundation (SEF), a subsidiary of M'Sharie – the private equity arm of Dubai Investments, which has been awarded contracts worth Dh1.8m for CT IV and Dh1.9m for FST I.

Memon Investments had earlier entrusted SEF to undertake the initial ground work for two of its previous projects – Champions Tower II and Champions Tower III.

SEF is focused towards meeting the deadline set for the excavation, shoring and foundation works.

"As an organisation that recognises the importance of partnering with the industry's best contractors as vital to our success as a developer, we have made a decision to once again commission SEF for these ground works," said Rizwan Shaikhani.

The Dh450m CT IV is a 20-storey tower designed by Adnan Saffarini Office, while the Dh338m FST I has been designed by Al Hatmy Engineering and Consultancy.

The latter was launched by the developer in partnership with Sumsum Developers and will comprise 24 units.

"Having awarded the first of the important contracts for FST I, we are now focused on ensuring that the rest of the construction phases will be entrusted to credible contractors with sufficient experience and expertise, which will guarantee that the high quality standards we have set for this project will be met," said Asif Sumsum, Managing Director, Sumsum Developers.
Follow Emirates 24|7 on Google News.