Metro Green Line on track for opening in March 2010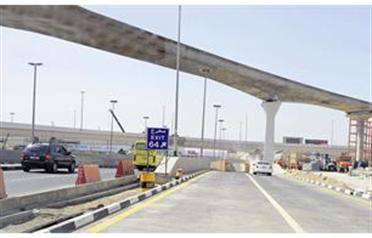 The Green Line of the Metro will open in March 2010 said a senior official at Dubai's Roads and Transport Authority (RTA) yesterday.

"It is still slated for March 2010," said Peyman Younes Parham, Director of RTA Marketing and Corporate Communication Department. He dismissed rumours that the Red Line will be delayed and will be opened up in phases.

"We are on track to open up the entire Red Line," he said. "Trials were conducted last week and the project is on schedule."

The total length of these two routes is 75km including the 52km Red Line and 23km Green Line.

Meanwhile, the RTA yesterday opened new sectors of Al Ittihad Road Improvement Project (Phase I) for traffic between Dubai and Sharjah. Sectors opened include Dubai Police HQ Tunnels (Galadari) one and two, which serve traffic from Dubai to Sharjah and vice versa, while maintaining the current traffic mainstream through the existing tunnels; thus easing traffic flow on this vital corridor. This is one of the most congested highways in Dubai and the whole region and a key arterial road for traffic between Dubai and the Northern Emirates.

Maitha bin Adai, CEO of RTA Traffic and Roads Agency, said: "Completing and opening of these sectors under Phase I of Al Ittihad Road Improvement Project – which will be fully completed in the second half of March – will contribute significantly to easing traffic congestion on this key road, particularly during the morning and evening peak hours. We hope for even better traffic flow upon completion of Phase II of the project."

Opening of this phase is part of a massive project undertaken by RTA over two phases. The first phase extends from Shu'la Roundabout and passes through Dubai Police HQ Tunnel and Mulla Plaza Tunnel.

"The first phase includes all the work in front of Dubai Police Headquarters. In October 2008, we opened some bridges, while the underpasses opened today," Parham told Emirates Business. "Some of the road works will be opened by end of March this year. The second part of Phase I, the Al Nahda Underpass, will open on March 10. By end-March, the entire Phase I will be completed."

Parham added that Phase II is under progress and is scheduled for Q3 of 2009. "In this phase, Sheikh Zayed Road will link with Airport Road and once that happens, we will see free flow of traffic from Abu Dhabi into Dubai and then all the way to Sharjah," he said.

Phase II starts from Shu'la Roundabout and passes through the Airport Tunnel along Sheikh Rashid Road up to Al Garhoud Bridge. These works, which are part of a master plan to upgrade this vital road, started in early 2007 then at a total cost of Dh800 million.

The original plan to finish this project was mid-2009 and the dates have shifted to the third quarter of the year. The costs have also increased to Dh830m, according to a RTA statement yesterday.

"In general, we work on projects in phases and also open them in phases. What we considered then was that project would open partly by mid-2009," said Parham. "There are bound to be small improvements that come up along the way. But we consider this project on schedule – both financially and operationally. The difference is negligible."

This year sees an additional 17 road projects on the table, he said. "We have 17 road projects this year and by then the transport network will also open up," he said. "A lot of our budget was focused on the road network. But transport will be the focus of the RTA over the next three years, especially, with the Metro coming on line this year."

From 700 buses in mid-2008, RTA upped the figure to 1,300 by the end of the year.

"This figure will go up to about 2,000 by end-2009 and a further 500-1,000 in 2010, he added.
Follow Emirates 24|7 on Google News.