Nakheel projects full steam ahead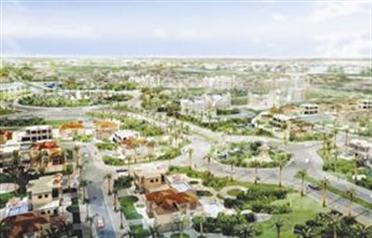 Around 120 developers are in various stages of construction on the Jumeirah Village project it was announced yesterday.

And 400 designs are currently waiting for approval so that they fit in with the project guidelines, added a senior official from developer Nakheel. Additionally, 80 per cent of infrastructural works have finished on the Circle component of the Jumeirah Village, it was revealed to Emirates Business. The project is expected to be completed by 2013.

"Six thousand residential units will be completed by third-party developers by the end of this year," said Marwan Al Naqi, General Manager, Jumeirah Village (JV). "So far 300 villas have finished construction. By end of 2009, 2,186 of our villas will be completed and this figure will be over and above the 6,000 units by third party developers. We have completed the entire infrastructure for the Triangle part of our project. When it comes to the Circle, we are making sure that by the time all the developers move in, we will have the infrastructure ready. So far, 80 per cent of infrastructure has been completed in the Circle."

The entire Jumeirah Village is a single-phase project, he added. "We agree that there has been a slowdown in construction and that there is a financial crisis. But right now we have 120 third party developers who have started construction within the project. We also have more than 400 designs in the office, which we need to approve and see that are in line with the overall guidelines for the project," said Al Naqi.

"Nakheel has invested not just in the construction but also on the design side. We actually redesigned the project and added more value to it by altering the master plan so that the project has more schools, nurseries, hospitals, police stations and so on. When it comes to the landscaping of JV, the Circle will have half a million sq metres of landscaped area, while the Triangle will have 47,000 sq m of landscaping, which will be undertaken by Nakheel."

The green component in the project stands at 40 per cent he said. Two schools will finish construction by 2010, he added.

The fall in the prices of construction materials could be a blessing, he said. "On our side, we made sure that all the infrastructure is in place. Now it will make sense for many third-party developers to actually start construction and benefit from the situation," said Al Naqi.

JV will have a projected population of 300,000 and the developer says that the project will have a community feel. Located north of Emirates Road and west of Al Barsha Road, Jumeirah Village is bisected by Al Khail Road into triangular and circular portions.

'The Circle' comprises of commercial, residential and retail components and 'The Triangle' is predominantly made up of villas, surrounded by 30-35 levels residential towers and G+4 levels buildings. The project is spread across 811 hectares and features Arabic and Mediterranean architectural styles, with carved doors, arches and thematic geometric and floral tiling.

Jumeirah Park

Meanwhile, 95 per cent of the infrastructure is finished on the Jumeirah Park, said Joe Barr, Managing Director, Development Projects at Nakheel. The entire project will finish mid-way to 2010, he added. The project was originally scheduled for completion in 2009.

"We are phasing the completion in line with services we have to provide. Infrastructure is 95 per cent complete. We have made sure that the main roads are completed well ahead of schedule and this included the main spinal road, which helped us during the construction phase in terms of logistics of transporting materials," said Barr. "There are 10 phases to this project. By end of 2009, we will complete construction on 900 villas and then look at a series of packages handovers."

The 2,700 villas will be built over 350 hectares of land, which is projected to house 18,000 people.

The construction focus is currently on the 1,700 units that have been sold so far. "With the current economic scenario, we are not expecting to sell any new villas. So the construction and design programme is tied to the villas that have been sold," said Barr. "There are eight contractors working on this project and they are on course to meet the deadlines."

Since all contracts were awarded before the drop in prices, he added there was no question of retendering in line with the current trend in the market. Nurol, Dodsal, Pauling Middle East, Al Huda and BBB are some of the contractors, he said.

Jumeirah Park is located close to Palm Jumeirah and Ibn Battuta Mall. And the development will feature extensive landscaped areas.

Barr added the east parallel road that runs through Al Furjan, Discovery Gardens and part of Jumeirah Park is is progressing well.

Al Furjan

"Al Furjan is phased over the next five to six years. If you look at the phase under construction… it is due for completion by the middle of next year. Phase 1 consists of 2,000 units and we are going ahead with construction on all the villas that have been sold. We have done infrastructure for the second phase though we have not started construction in this phase since we have not yet sold in that phase," said Barr.

Handover of the first properties is slated for late 2010. The project will house 4,000 units and is spread over 560 hectares south of the Ibn Battuta Mall and is expected to host a population of 90,000 people. The project was originally slated for completion in 2014.

Mohammed Rashed, General Manager at Al Furjan, said: "Nakheel is not isolated from the global scene and has readjusted its short-term plans. We are building what we have already committed. The construction work is going on schedule on those projects and the infrastructure work is progressing quite well."

Arabetc, Al Shafar General Contracting and and Khansaheb are the three main contractors working on different parts of Al Furjan.
Follow Emirates 24|7 on Google News.