New Zealand firm launches 'mobile factory' for steel frames in Dubai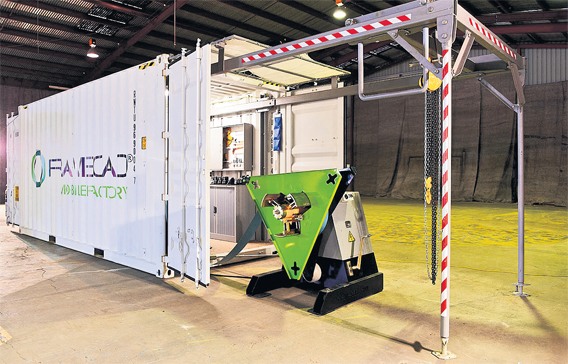 A completely self-contained mobile factory that produces steel frames for construction has been launched yesterday in Dubai by New Zealand company Framecad with support from the country's national economic development agency, New Zealand Trade and Enterprise.
The Mobile Factory is a fully self-sufficient and housed in a modified 20 ft shipping container which can be shipped, trucked or airlifted into any location and then made operational within 24 hours of delivery.
With its own diesel generator and computer-operated production, the factory manufactures steel frames at the rate of 700 metres per hour, Established in 1989, Framecad is known for the development of integrated design and manufacturing of steel framing for building homes, multi storey commercial buildings, factories, warehouses, workforce accommodation and public amenities such as hospitals, schools and community buildings.
Mark Taylor, Chairman at Framecad said: "One major benefit is the manufacturing of pre-engineered structures that can be produced, assembled and maintained by a local labour force, even where skill levels are low and there is no reliable infrastructure.
"With the mobile factory, you can get the project started very quickly and of course, once the project is completed, the factory can be relocated to another site."
He said the concept was originally designed for commercial building companies wanting to build multiple homes in large-scale developments.
"Since then, events such as the tsunamis in the Pacific Islands and the earthquakes in Indonesia, Haiti and Chile have highlighted the potential for using the factory for disaster relief; we're already talking to various aid organisations to see how we can work together," he said.
Soon after the 2006 earthquake in Pakistan, the company set up a factory within two days and trained staff on site to design and build relief housing, medical clinics, schools and other much needed facilities.
In the first 12 months following the disaster, one million square feet of buildings were erected in the country. A similar strategy was employed in Indonesia after the 2004 Boxing Day tsunami.
Follow Emirates 24|7 on Google News.