Projects worth $75bn on hold or cancelled, says HSBC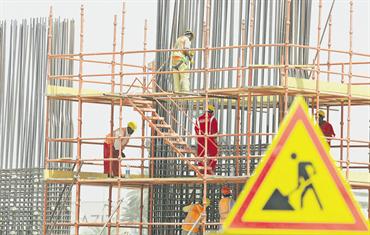 Around $75 billion (Dh275.5bn) projects in the UAE can be identified to have been suspended or cancelled, according to an Arabtec Holding equity research report released yesterday by HSBC.

The bulk of the report were high-end residential and commercial projects and Arabtec's field of operation said the report, which cited Meed-Zawya as the source.

"Since our company note on January 13, 2009, Arabtec's share price has dropped 44 per cent on the back of continued negative news flow across Dubai's construction sector. The worst of news has seen cancellations of entire projects, even though they appeared at advanced stages of construction," says the report. "Following the cancellation of its racecourse project (contract) by Meydan, the latest negative news to involve Arabtec is the reported suspension of the $654-million Atrium project in Dubai by Australia's Sunland Group. We surmise that the client may be looking to revisit the project's design costings. We estimate that Arabtec was due to start construction circa in second quarter of this year, but that this could now likely be pushed forward to early third quarter of 2009. We continue to exclude this project from Arabtec's backlog until a revised contract value is disclosed, a move which more firmly signals a client's intention to proceed."

The bank is maintaining its 12-month valuation of Dh2.40 but has upgraded its rating from Neutral (V) to Overweight (V). It also adds that the magnitude of the sell-offs appear unjustified. In its view, while macro and property news flow has led the market to take a negative view towards Arabtec, the current valuation is too compelling. "However, we believe our forecasts reflect the present situation and the magnitude of the sell-off appears unjustified."

HSBC also adds that based on its fair value multiple, the current market price implies 2009 earnings, which are 56 per cent lower than the bank's estimate.

"On a 10 per cent net margin, this translates into a revenue target that is Dh3.5bn lower than our 2009 estimate of Dh8.1bn," says the report.

Close to 70 per cent of the report's new 2009 opening backlog estimate for Arabtec comes from the Mohammed bin Rashid Housing project, Saadiyat Beach Residences and Cleveland Clinic rendering the share price highly sensitive to any scalebacks or cancellations in any of these three projects. That said, the report adds that the more resilient Abu Dhabi market now represents a higher 60 per cent of the bank's new backlog assumption.

It also cites from the Middle East Economic Digest (Meed), which said Arabtec has already mobilised on-site for the Saadiyat Beach Residences contract in Abu Dhabi, in preparation for construction work, after the memorandum of understanding was signed in May 2008. Also, bids are due to be submitted for the St Regis Beach Resort development, where Arabtec is among prospective bidders – others include Belgian Six Construct, Dutco Balfour Beatty, and Australia's Multiplex.

The report highly rates the management's prudent decision to hold off on share buybacks and cash dividend distributions. It also adds that on a positive note, Arabtec's cash balance should be sufficient to fund continued operations, but that longer-than-expected delays in receivables will leave the company with no option, but to resort to debt financing.

"As we expect its cash burn rate to be aggressive over the coming six months on the back of the less favourable working capital cycle than that enjoyed during good industry times," it said. "The average receivables days-on- hand for HSBC's global emerging markets construction and engineering coverage is currently 130 days, whereas we expect Arabtec to carry an average 193 days out until 2011. During the early credit crunch days, Arabtec had as much as Dh1bn in cash, only very marginally funded by debt. In our model, Arabtec's cash balance should be sufficient to fund continued operations, but longer-than-expected delays in receivables would leave Arabtec no option, but to resort to debt financing."

The report says the company will manage to secure debt financing, but only on a project-by-project basis, as opposed to at the corporate level.
Follow Emirates 24|7 on Google News.