Ramboll eyes 10% growth in company size in Middle East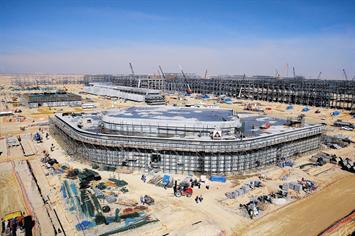 The world markets are seeing a change and Ramboll, the international engineering consultancy, expects to see nine per cent growth globally and 10 per cent in the Middle East (in terms of company size) in 2010, says its global CEO. It is also diversifying its focus areas within the region.

"Our tradition and history have been buildings, but now we will move a person from Northern Europe to this part of the world as director for infrastructure so that we establish a stronger presence in that sector. Secondly, we would also like to strengthen the environment and climate aspects. Hence, we will later find a person from Northern Europe to strengthen that aspect of our business in 2010," said Flemming Bligaard Pedersen.

Pedersen was in Dubai for the Ramboll global board and regional strategy meetings. The group is looking at three large and 20 small acquisitions across the world in 2010, he told Emirates Business in an exclusive interview.


Has Ramboll shifted its focus in the Middle East?

The global board meeting has taken a decision that we should expect the situation in Dubai to certainly improve in 2010 compared to last year; but certainly not as buoyant as before 2009. So we have to look for a broader approach in the Middle East. Hence we are looking at establishing a strong position in Abu Dhabi and also Qatar. We are looking at infrastructure and the environment as two areas with strong growth potential. It is not just about getting a person here as director, but we also need to have local expertise. So we are talking about setting up a division to focus on these areas.

What are your growth projections for 2010? What chunk is the Middle East of your international business?

Last year, we passed the $1 billion turnover globally. We had to work harder and the competition was tougher in 2009 (the turnover was a little less than 2008). We are expecting about nine per cent growth for 2010. We always want to be among the strongest companies in our business area. If you are a small player you will be pushed around, but if you are a big player then you can influence, and we would like to be part of setting the agenda. Our international rankings are improving by the year. We want to be one of the top three players and currently have a strength of 9,000 employees. We should have about 15,000 people in our group to really follow that dream in the next five years.

Growth-wise, we are looking at 10 per cent in terms of the size of the company in the Middle East. The Middle East is about five per cent of our global market, but we expect to see that figure change in the next few years.

What are other plans for Ramboll Middle East?

We will establish a project office in Saudi Arabia since there are many opportunities there in infrastructure and construction. Hence we will invest in having a local and permanent presence there as soon as possible and have already started the process.

What about the Ramboll Foundation and the recent decision to invest Dh300,000 in research into new strategies for retrofitting existing buildings to improve energy efficiency in the Middle East?

The Foundation is a special ownership. In the past, it was founded as a partnership and then the partners decided that if the company should continue and grow, it should have another kind of ownership, else it would be spread among the children of the founders and just disappear. The founder felt that the intellectual capital should be the owner and hence he decided to start this foundation to ensure that it becomes a solid workplace for people through history. So we gave it a long-term perspective. The vision of Ramboll is to grow and grow and some day become a really global consultancy. If you look at the development of the world, it is the realisation that we are all on the same globe and not just about how this or that country is going to develop. So you need to be here in the Middle East since it is a laboratory for development and that is why we are here. This Dh300,000 was a one-time decision to support specific technical developments that not only involve the company, but also the community around it so that we can give back a more holistic kind of development.

What is the funding model for the foundation?

You could say that what is earned is reinvested back into the foundation.

Ramboll has recently launched a global energy practice. What is the rationale behind creating this new division?

Realising that energy and our climate are very much linked and the energy debate is fierce, we realised that we need a global operation to support what is going on because it is across borders. So we decided that this business unit should be organised like the problem and be part of solving of the problem. We decided to be globally organised so that we combine local businesses units that are operating with the idea of knowing what is going on locally with the knowledge of knowing what is going across borders.

You have started 2010 by acquiring QA Consulting in Denmark.

We realised that we needed to offer a holistic service in Qatar and Abu Dhabi. We needed to go beyond the signing of contracts and front-end design and link it to service and maintenance. That is why we looked at QA and moved into quality assurance and the maintenance side of oil and gas. The experience that we gained here is being offered across the region and we are bringing in our other skills that can be utilised on projects be they in infrastructure, oil and gas, airport design or others.

Last year, you made a statement that there was a downturn in the Middle East, the UK and some Nordic countries and that you would reallocate your resources to other areas due to the slowdown in the construction market. Did that happen?

Yes. Denmark is a good example and we moved 150 people from that sector to the infrastructure sector, but then there are some good projects in that area. It was a happy situation that we could move them and it is a good signal for all our employees that we invest in them through reeducation and use them in other sectors. It did not succeed with all, but was successful with one-third of them.

Do you expect to make any changes in strategy in 2010?

We have the same strategy in good and bad times. We want to grow internationally, to become more influential and become a truly global consultancy.

Why did you change the Ramboll Whitby Bird name to just Ramboll?

We respect the past, but if you look at our history, we have many new companies coming into our fold. So we decided that we will change the name to Ramboll to symbolise the working together as one company.

Any new acquisitions in the pipeline?

Last year was difficult, but we looked at some small acquisitions. This year, it is more stable internationally and we expect to be very active. We are looking at two areas. It could be large companies to assist us in our aim to make it to the top of the list globally. But at the same time, you need companies that are smaller and will supplement or complement our activities. By smaller businesses, we mean those companies with 20 to 100 employees. We have a good brand and people come to us and ask us to consider their businesses and we take in about 20 a year.

The big ones are companies with about 1,000 people in the 'yes' or 'maybe' stage and we are looking at three opportunities. We don't have any specifics in the Middle East as yet.


Areas of interest

Flemming Bligaard Pedersen has been Chief Executive Officer of the Ramboll Group since 2003. He has a MSc in structural engineering and a PhD in structural dynamics, both from the Technical University of Denmark. He has also completed the Business Leadership Colloqium DIEU. The Ramboll Group provides engineering, consultancy, product development and operation services within the areas of buildings, energy and climate, environment and nature, industry, oil/gas, infrastructure and transport, IT and telecommunications, and management.
Keep up with the latest business news from the region with the Emirates Business 24|7 daily newsletter. To subscribe to the newsletter, please click here.
Follow Emirates 24|7 on Google News.