Reshaping The World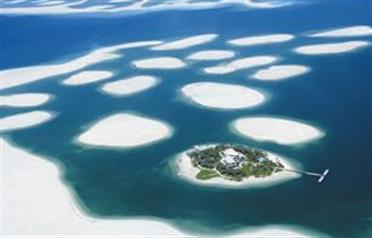 A majority of the islands sold on The World are now being reshaped by designers, Emirates Business learnt on a visit to the project. With heavy activity underway, almost 60 per cent of The World will include merged islands, the project's developers Nakheel confirmed. The initial 300 islands have already merged to give the 931-hectare project a current total of 254 islands.

"Investors are merging islands in order to get more buildable land area to develop integrated resorts with marinas, restaurants, spas, and other services," the company's spokesperson said.

On the cost implications of reshaping and merging islands, the company said the figures were insignificant and stood below five per cent of the total project cost.

Reshaping islands not only enhances the atmosphere of the island, but can also lower maintenance costs for developers. For example, by placing beaches and marinas properly in relation to water flow through the project developers can almost eliminate beach maintenance. The World will add 232 kilometres of beachfront to Dubai's coastline, after using over 320 million cubic meters of sand to form the islands.

Dry reshaping is a simple process done via excavators. Long-arm bucket excavators are placed onto a reclaimed island and shaping works are completed using GPS technology. Commenting on when the reshaping activity would end allowing for a final blueprint, Nakheel's spokesperson said: "The World has a fluid masterplan which can evolve with the development. The flexibility of the masterplan is an important component of this mega-development, which will be completed in several phases. This includes reclamation which is complete, reshaping which is underway, ground work improvement, navigational channels which are complete, channel maintenance, infrastructure design and installation and island construction.

"Completed developments will begin to appear within three to five years but the overall development will require ongoing development for many years."

Given that The World is unlike any other development and has no precedent, the technical challenges have been plenty. Nakheel is now working closely with Dubai Electricity and Water Authority on the technical aspects of the power grid for The World.

Desalination plants are planned for the project and Nakheel is working with developers to ensure that the projects' demands for water will be accommodated.

Island owners will be responsible for providing their own Sewage Treatment Plants (STP) in accordance with The World Development Control Regulations and Article 32 of UAE Federal Law 24 – Protection and Development of the Environment. The disposal of sewage to the marine environment is specifically prohibited under this law.

"On all of Nakheel's developments we ensure that not one drop of waste water is dispensed into the sea. The collection and treatment of grey or black water, stormwater, and runoff water is strictly regulated with all treated water being used for landscaping, district cooling and firefighting purposes," said the spokesperson.
Follow Emirates 24|7 on Google News.