Sahara Centre overpass opens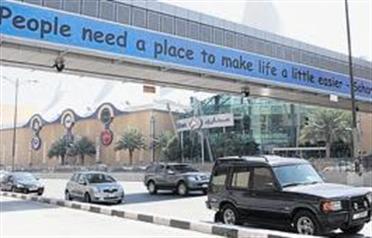 Sahara Centre – a shopping and entertainment destination in Sharjah – yesterday officially inaugurated the Al Nahda pedestrian overpass.

Commuters can now cross the busy Al Nahda Road using the walkway and gain direct access to Sahara Centre.

The bridge was installed last month under the supervision of a team of engineers appointed by Sahara Centre.

The bridge is accessible by elevators and staircases from both sides. The overpass was built at an estimated cost of Dh7 million and has been installed at a height of 6.5 metres and spans 48 metres across the road. The bridge comprises a structural steel frame, equipped with steel deck flooring and a metal panel wall with roof cladding. Jean Pierre Nammour, Managing Director of Sahara Centre, said: "The new pedestrian bridge is now operational and is a significant step towards providing an easy, safe and convenient option to the residents living in the Al Nahda neighbourhood.

"The new walkway is a reflection of our commitment to the community and we are pleased to extend easier access to our customers. We are also thankful to various government departments for their support and co-operation in this endeavour."
Follow Emirates 24|7 on Google News.