Saudi imposes 5% duty on imported steel and cement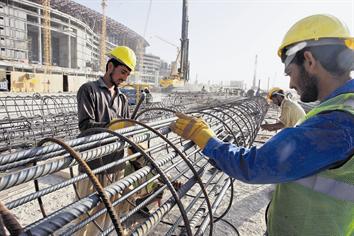 Saudi Arabia has re-imposed five per cent customs duty on steel rebars and cement imports following an oversupply in the domestic market.

However, the duty will only be levied on rebars and cement imported from non-GCC countries.

The decision came into effect on January 1. According to reports the decision was circulated to all Saudi border ports for implementation by the beginning of the year.

UAE had re-imposed a similar five per cent customs duty on imported steel and cement last February.

Meanwhile, steel producers are of the opinion that unless the customs duty is imposed on cut and bend facilities, it would hardly have any impact in the market.

A senior official from a steel producing unit in UAE yesterday told Emirates Business that although the UAE introduced customs duty almost a year ago, steel continued to be imported by traders who also operated cut and bend facilities.

"The only reason why imports have reduced in the UAE market is because of competitive prices within the local market and an excess supply," said the official. "Authorities should ideally remove the exemption of duty for such facilities."

Imports of steel and cement into the UAE has significantly dropped following a hike in prices of rebars in major markets such as Turkey, China and India.

The UAE had earlier removed customs duty on both the products when the prices were at their peak. There was a shortage of steel and cement in the market and steel was selling between Dh3,500 to Dh4,000 per tonne.

Today, locally produced rebar is priced at Dh1,850 while imported rebar can cost up to $510FOB (Dh1,835). "Shipping and handling charges will actually make it more expensive," Karel Costenoble of Mesteel said.

According to Ajay Aggarwal of RAK Steel, there is enough supply in the UAE to meet the local demand. "The demand is slow and facilities here are catering to the needs. We have not cut any production so far," he said.

Meanwhile, Saudi's reintroduction too comes after a temporary exemption that lasted for two years.

Saudi Arabia had earlier approved a cut in customs duties on steel since April 2004 from 20 per cent to five per cent said a report in Arab Steel.

GCC had also approved to duty exemptions on steel and cement imports two years ago, hence making them totally duty-free imports, in order to tackle the crisis of tight supply that prevailed in the market then, restraining the upward trend of building materials prices that reached record levels.

Meanwhile, other GCC countries are expected to follow the Saudi example of imposing customs duties of five per cent.

The decision of the GCC Financial and Economic Cooperation Committee, made at the 80th meeting in Muscat at the end of May 2009 had called for a hold on

any further exemptions on rebar, bricks and cement imports in all GCC countries and for the application

of protectionism starting from January 1 2010. According to the committee, the reasons for exemptions are no longer existent.
Keep up with the latest business news from the region with the Emirates Business 24|7 daily newsletter. To subscribe to the newsletter, please click here.
Follow Emirates 24|7 on Google News.