Saudi Oger sees a 'good' year ahead for industry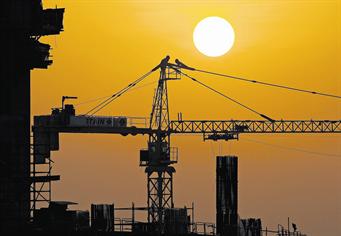 Saudi Oger, one of the leading construction players in Saudi Arabia, said it has managed to win orders for projects worth SR10 billion (Dh9.7bn) for this year.

The latest orders will allow the firm to become more competitive even as 2009 will continue to remain a good year for companies operating in the Saudi market, said Ali H Kolaghassi, Vice-President, Saudi Oger.

Speaking to Emirates Business during the recently concluded Arabian World Construction Summit, Kolaghassi said: "I do believe that 2009 is going to continue as a good year as far as the construction sector is concerned, especially, as a result of the Saudi Arabian Government announcing major developmental projects."

"We have been awarded a few projects and so far we have already managed to sign contracts for projects in excess of SR10bn this year."

He emphasised that most of the contractors in the region have got a big pipeline of projects during 2007 and 2008, which will easily carry them through during 2009 and 2010.

Meanwhile, the benefits of contracts awarded this year will continue to benefit companies for a couple of more years. "If this trend continues this year, it basically means that 2010 will be a good year. It is a two to two-and-a-half year cycle for every project to be executed. What's going to be interesting is to see how banks will perform during the coming years," he said.

The major focus of Saudi's new projects will be on infrastructure, healthcare and education. "This means that the Saudi Government is going to invest a lot of money in awarding contracts in 2009, which in a way, will help contractors to continue their pipeline. The Saudi Government along with that of Abu Dhabi and Qatar will continue with this process in an effort to reinstate confidence," said Kolaghassi.

Banks he said would play a crucial role in determining, how the construction and real estate sector moves forward. "Banks need to start lending again because it is very important to the private sector. Some governments have announced how they will ease up regulations to local banks in an effort to allow them to start establishing credit and lending to private developers," he said.

Although it is not sure if governments will start investing in the private sector, they could ease the regulations so that banks can do their own screenings and lend to private developments, said Kolaghassi.

"I am sure this will be done on an extremely selective basis because banks are not going to be lending highly leveraged developers, like it did in 2007 and 2006."

From now, banks will only lend to projects, which they think are viable. "They are going to focus a lot on the market that is neglected – the middle- and low-income housing," he said.

The Saudi market he said is based on local consumption with almost 45 per cent of the population under 20. "Saudi Arabia alone would require a million-and-a-half residential units in the next five years between low-, mid- and high-income housing," he said. "The region will bounce back soon."

According to him this is the right time to build as lower construction cost and easy availability of labour could help both the contractors and the developers.

"Although the availability of liquidity and finance is a serious challenge, I do firmly believe that developers who are solid and have good projects on hand will be able to get the necessary financing to continue, take advantage of the local structural cost and deliver hopefully by the time the markets pick up again and will be ready and we will see sales coming up again," said Kolaghassi.

Contractors in the region, he said will be able to make use of the low construction cost and easy availability of labour. "Construction cost has dropped because of more than one element. The first one of course is the cost of labour, which has gone down. The countries where we mostly import labour from, such as India, Bangladesh and Pakistan have slowed down several of their project development. So we will be able to get more skilled labourers at lower rates," he said.

In 2008, there was an escalation of the cost of labour and coupled with a severe shortage of skilled manpower had placed a heavy burden on the construction industry.

However, the situation has changed now, said Kolaghassi. "The workers from these countries will return to work in the GCC at a much more competitive rates. This will help contractors to be selective again in obtaining skilled labour at more competitive rates. It is creating an opportunity for developers to build at a lower cost and deliver it on time," he added.

According to him, the other factors includes increasing competition among contractors as a result of contractors being more dormant in Dubai. "That means that they will be bidding in other countries trying to compete with the local contractors."

Finally, imports from Europe he said will be much cheaper adding to the reduction in construction cost.

"We are a dollar-based economy and the euro has gone down against the dollar, which allows us to import at more competitive rates. Today I will be able to import any European materials at a lower exchange rate and also benefit from a more competitive supply market. The demand for construction material has dipped in Europe," said Kolaghassi.

According to him, the reduction of construction cost is beneficial to the industry.

"As a construction firm these factors will allow us to become more competitive, and satisfy the requirement of out clients and execute the projects at a much faster. Saudi Oger will continue to focus on the region mainly Saudi Arabia, Abu Dhabi, Dubai and Jordan. Hopefully we will be looking at other countries in the near future," Kolaghassi added.

The firm is working on projects in Dubai on which construction works are continuing as scheduled and at a brisk pace.

"All our projects in Dubai are progressing well. Several of them are nearing completion and will be handed over soon," he added.
Follow Emirates 24|7 on Google News.