Sohar temporarily shuts melting unit and cuts production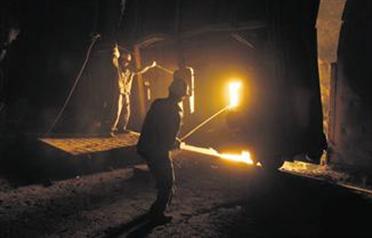 Sohar steel says it has temporarily shut its melting unit and cut production by almost 25 per cent due to falling steel prices and a sudden drop in demand.

The production capacity in the company's rolling mill was 280,000 tonnes per annum, while the recently launched melting unit has a production capacity of 250,000 tonnes per annum.

S Mohan, General Manager, Support Services at Sohar Steel, told Emirates Business that demand for steel had significantly fallen during the past three months, which resulted in companies cutting production.

The company, which used to operate 24 hours a day, has decreased its timings by almost 10 hours.

"We now function only between 16 and 18 hours everyday. Many of the employees whose leave applications were pending have been allowed to go on leave," he added. "We started our operations last May and have been producing about 600 tonnes daily. We do not know how long the present situation would continue. Many of us are hoping that the production at the melting unit will be resumed after a couple of months," said Mohan.

"This is not just with our company. Almost all steel rolling mills and melting units have cut production. Companies are left with no other option because of lack of demand."

Nippon Steel became the latest major player to announce a cut in production.

Nippon, the world's second-largest mill, will probably cut output by more than four million metric tonnes for the six months to March 31, which is double a November estimate of about two million to 2.2 million tonnes, President Shoji Muneoka said recently.

Global steel output fell last year after climbing for six years, as demand by construction companies and car-makers dropped amid recessions the World Steel Association said. It represents 18 of the world's largest steel companies, including ArcelorMittal, which make 85 per cent of global steel.

Steel production dropped 1.2 per cent from a record high in 2007 and tumbled nearly a quarter in December from the same month in the previous year, it added.

The downturn comes after steel makers built up massive stocks, expecting that demand from emerging economies would surge.

Many of them, including ArcelorMittal, are now laying off workers and trimming steel output. Steel making fell 5.3 per cent in Europe last year and 5.5 per cent in North America. Russia and its neighbours, including Ukraine, decreased output by 8.1 per cent.

Only Asia and the Middle East increased production last year, the World Steel Association said.

Last week, meanwhile, the Seashore Group announced that it is planning to set up Seashore Steel and Pipe company (SSP) in New Industrial Area of Doha, under the Ministry of Industries And Energy of the State of Qatar.

This will be the first private steel melting and hot rolling company in Qatar.

SSP is planning to manufacture its won steel billets and re-rolling them into structural and construction steel materials and steel pipes. The installed capacity of the plant will be 120,000 – 150,000 tonnes of Steel Billets per annum. The company plans to commission the project in two stages.

According to experts, despite long-term expansion plans regional steel manufactures are being forced to cut production as imported steel continues to flood the market.

In November 2008, Qatar Steel reduced prices of steel rods to QR2,400 (Dh2,422) while another leading Gulf producer Saudi Basic Industries Corporation (Sabic) reduced prices by 30 per cent or SR1,200 (Dh1,172).

Steel prices have been consistently falling since July last year.

According to reports, prices of steel has fallen by almost 70 per cent.

In the region, prices of rebars have fallen from $1500 CFR levels in August 2008 to $450CFR in January and billets form $1200 CFR levels to $365 CFR during the same period.

"This has been a significant nosedive. In line with the import levels, the retails price levels for rebars in January 2009 have come down by 60 per cent to 70 per cent since July 2008," said Rizwan Sajan from Danube.

However, according to experts the price levels for the import of rebars have started rising again.

Reports said it went up from $400 per tonne during the last week of December to $460 per tonne. Turkey is presently offering to export only at $490 per tonne to $520 per tonne. Billets too have gone up from $365 CFR levels in December to $420 per tonne to $430 per tonne on CFR basis.
Follow Emirates 24|7 on Google News.