Solar panels here are more efficient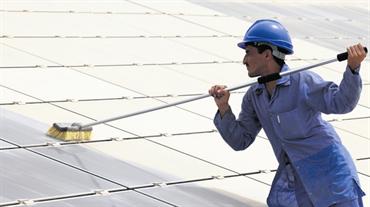 A solar panel here produces much more energy than a panel in any other part of the world in terms of the international solar market, according to the CEO of Environmena, the Abu Dhabi-based solar energy developer. It further leads to the case for solar in the Middle East and North Africa, he said.

"Meanwhile, though sand on solar panels blocking sunlight is a harsh reality in desert environments, it can be easily cleaned off by a consistent operation schedule," said Sami Khoreibi, CEO of Environmena. The company is expanding its presence in the region by setting up new offices in Qatar, Saudi and Jordan and opening new offices, he told Emirates Business.


Environmena has been in the market since 2007. Can you give some indication on the annual turnover and year-on-year growth?

As a privately-held company, we cannot disclose our turnover or year-on-year growth. For example, the Masdar 10 MW solar plant, constructed by us between 2008 and 2009, has a contract value of $50 million (Dh183.6m). It can give an idea of our work. The company has been seeing fantastic growth and it is a sign of the potential of the region.

There are many obstacles to setting up solar panels in terms of known facts such as that semi-conducting materials are in short supply worldwide, the price of solar energy is high and sand on solar panels block sunlight. So what is the education process you are involved in to changing the perception, say in a project like Masdar?

We had won the contract for the largest grid connected solar power system in the Middle East, a 10MW plant for Masdar City, and are operating that for quite some time now.

The issues that everyone expects such as dust in the region can be easily overcome by a proper operation schedule that is cost-effective. It is a reality that sand gets on panels in a desert environment. We are incurring a lot of costs but we have developed ways to optimise the systems with minimal environment impact while maintaining cost-effectiveness. So we now have the on-the-ground expertise of understanding how these systems operate in this part of the world. We are seeing that a solar panel here produces much more energy than a panel in any other part of the world in terms of the international solar market. It further leads to the case for solar in the Middle East and North Africa.

Cost implications and the general understanding of the requirements for the solar industry has been helped by other organisations in the UAE that are also pushing the green battle and educating everyone to go green. Architects are some of our best friends in this fight to include solar in building design in a practical manner and also bodies such as Estidama, the Emirates Green Building Council and others. We are also seeing an increase in efficiencies such as more power on a single panel and decreasing costs.

You have recently secured $15m in cash through a funding round including clean tech investment specialists Masdar and Good Energies, which also will see Masdar become the largest shareholder of Enviromena, followed by Good Energies and zouk. Can you elaborate on the deal?

One of the key uses of that capital is to expand our company in other parts of the region and maintain our position in the region. We have been in discussions for a period of time and we found that this was a solid consortium in terms of clean tech companies.

What are your expansion plans for 2010?

We want to continue growing our teams here in Abu Dhabi. We believe that there will be a number of exciting projects that will take place in Abu Dhabi, which will enable us to do so. We are also seriously looking at expanding into new markets and setting up new office over the next 12 months in countries like Qatar, Saudi Arabia and Jordan, which will see some new projects. They are all priority markets and it all depends on their nature. There will be action in other places as well in the region. We will announce these in the near future.

Do you implement your business model of finance, design, instal and operate solar power plants across all your projects?

We can step into any part of the chain or can take all of those offerings in a project. On the Yas Island project, we did not get into the finance aspect. The scope of work involved designing a customised building integrated photovoltaic system, which will be mounted to the Shams Tower, a VIP Hospitality building rising 60 metres from the track. This dual purpose structure will provide shade for the cars parked underneath, while using the sun to produce clean, zero-carbon energy. This has been an interesting project in the sense that the solar fits very well into the circuit as a whole in terms of aesthetics. The other exciting part is the power production and this produces a substantial amount of energy required for that building. We hope to see that trend continuing in other projects.

When you say opportunities in Qatar and the other two markets, have you identified any projects in the pipeline?

We are assessing the potential and working very closely with private developers and contractors and the government entities. The timelines it takes to go from inception to getting into such projects take quite a while since solar is quite new to the region and requires quite a long education process. However, we have identified a number of exciting projects from the KW stage all the way to the very large solar plants.
Keep up with the latest business news from the region with the Emirates Business 24|7 daily newsletter. To subscribe to the newsletter, please click here.
Follow Emirates 24|7 on Google News.