Steel fabricators shift to oil and gas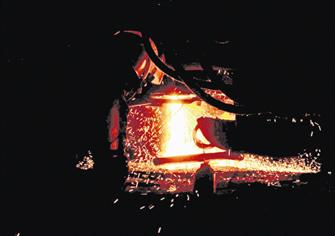 Steel fabricators in the UAE will have to explore opportunities in the infrastructure development and oil and gas sectors in an effort to overcome the slide in civil projects, according to a senior official from Steelfab, the annual exhibition catering to the steel fabrication industry in the region.

A massive shortage of new civil construction projects in Dubai and new opportunities in infrastructure development projects and in the oil and gas industry, will force fabricators to shift their operations, said Naveen Jacob Fernandez, Manager of Steelfab.

The four-day exhibition which began at the Sharjah Expo Centre on Sunday, focuses on all types of metal-working, metal-manufacturing and specialised segments of the steel fabrication industry.

"The global financial meltdown and its fallout has had an impact on the country and the entire region. However, the pro-active measures adopted by respective countries have ensured that infrastructure works are on schedule. Moreover, there is massive potential in the regional oil and gas sector," said Fernandez.

He added that fabricated steel was used across the infrastructure, oil and gas and other sectors, and non-reliance on real estate projects was working to the industry's advantage.

"The emphasis placed on spending through higher budgetary allocations will ensure that industrial and infrastructure developments in the country and region continue. This, in turn, will help sustain orders for machinery and tools from the steel fabrication industry," he added.

"Given the current state of the industry, it is the sheet metal segment that has been affected mainly. There is scope for a shift in operations provided companies adopt and equip themselves with new machinery."

Rajiv Lal Koshi, Partner at Royal Arab Steel Fabrication, however said that smaller players would find it difficult to change the focus of their operations. We are directly involved in the construction field and are currently doing fabrication works for an Emaar project.

"However, during the past six months it has become very difficult to trace any new foundation or piling work in Dubai. We are watching the scenario closely. Only existing buildings are being completed," he said.

Although the industry continues to struggle, new opportunities are eagerly awaited, according to an official from Saleh Ibrahim Steel Contracting. "Right now, business is slow. But any new opportunity will be latched on by players in the market," said the official.

Meanwhile, Fernandez said Steelfab would focus on assisting companies to source equipment for their growing needs. "Leading machinery manufacturers from about 26 countries, mainly Italy, Germany, Turkey and China are participating. More than 150 exhibitors with over 500 brands are at this year's exhibition," he added.

"We are targeting visitors from all GCC states apart from countries such as Syria, Jordan, Iran, Lebenon and Yemen. We expect visitors from North African countries too. Last year's edition saw good visitor turnout from India, Pakistan and Central Asian countries. This trend will continue," he added.

The two-day seminar will also dwell on relevant topics ranging from robotics, cutting gases, future of steel engineering and fabrication and new techniques being adopted in the industry.
Keep up with the latest business news from the region with the Emirates Business 24|7 daily newsletter. To subscribe to the newsletter, please click here.
Follow Emirates 24|7 on Google News.