Surge in production capacity may depress saudi cement prices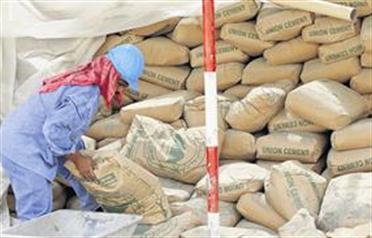 A surge in production capacity in the short term could cause competition among Saudi Arabia's cement companies and this could depress prices and affect their performance and creditors, a leading Saudi bank said yesterday.

The National Commercial Bank (NCB), Saudi Arabia's largest bank, said cement sales in the Kingdom slowed down in the fourth quarter of 2008 but demand was higher throughout the year despite the current global crisis.

The government allocated SAR165 billion for projects in the 2008 state budget, consuming nearly 40 per cent of the total planned expenditures worth SAR410bn.

The construction spree is set to continue in 2009 as the government has increased development outlays by another 36 per cent to SAR225bn in the 2009 state budget. This move will tend to accelerate demand for cement and related materials.

New plants coming on stream in the world's largest oil exporter are expected to sharply boost cement production and this would create a large surplus capacity within two years although demand will remain strong, NCB said.

In a study on the Saudi cement sector sent to Emirates Business, NCB said cement sales stood at around 23.0 million tonnes during the first nine months of 2008, consuming about 90 per cent of the total domestic production.

The country's cement production surpassed total sales that resulted in 169 per cent increase in clinker inventory to the level of 2.8 million tonnes and cement inventory of around 113,000 tonnes by end of September 2008, it said.

On the domestic front, despite weak demand growth seen during the first nine month of 2008, the study said it expected cement sales within the Kingdom to increase by 13.7 per cent to 30.5 million tonnes for the entire 2008.

Overall cement sales (including exports) by the 13 Saudi manufacturers were projected to reach 33.9 million tonnes in 2008, compared with 30.34 million tonnes in 2007, an increase of nearly 11.7 per cent.

"Our medium-term overall cement demand-supply outlook demonstrates that if all the projects presently under implementation were accomplished on time by 2010, domestic market demand for cement would have to grow by 80 per cent to absorb the entire capacity being installed between 2008 and 2010. However, this demand growth scenario seems not possible to achieve within the stipulated time frame as many of the mega projects are at their early stages of preparatory developments…but cement demand will pick up rapidly once building activities related to civil-work commence at a top gear after 2010," NCB said. "As per our projections, the Kingdom's domestic consumption of cement is forecast to reach 37 million tonnes by 2010 in relation to the available operative design capacity of 54 million tonnes, thus leaving a surplus capacity of around 17 million tonnes, and pointing towards a capacity overhang."

According to the study, if the domestic consumption were to grow nearly 20 per cent per annum between 2007 and 2010, the Kingdom's market demand will be around 46 million tonnes, which would still leave a sizable eight million tonnes surplus capacity available for exports.

It said this further supports the bank's forecasts that the capacity overhang is in the making over the near-term which may trigger price competition mostly likely starting from the fourth quarter of 2009.

Its figures showed licences for new cement projects and expansions of existing units would push up total production to a peak of 54 million tonnes by 2010.

"While cement exports absorbs nearly 10 per cent of the total cement sales, the remaining 25 per cent is met by the transient demand created by the waves of construction projects, both public and private sectors. Upon completion of these projects, a time we believe could be around 2015, excess capacity above the sustainable domestic demand and exports is widely feared amongst industry analysts. Thus, in the domestic market perspective, the capacity overhang looks as a real possibility that would tend to intensify competition among local cement producers and to push prices lower," the study said.

The study noted that the Saudi market for cement has been well supplied by 12 domestic producers during the first nine months of 2008, with nine months' total output reaching 25.76 million tonnes and growing 11 per cent.

It said four new cement factories namely Riyadh, Najran, Madinah, and Northern Cement came on production stream during that period and added new local supply by 2.36 million tonnes, further easing tight supply conditions that were persisting since 2006.

"Our bullish stance is still intact for 34 million tonnes production target for the entire 2008 as one more factory, Al-Safwa, had planned to go on production."

The study expected cement demand to remain strong despite the global economic crisis and lower oil prices on the grounds massive projects worth more than SR1.2 trillion are being carried out in the Kingdom.

"All of those projects have significant element of civil work that consumes cement and steel. This value figure, however, is a moving target, as projects are announced, re-scoped or cancelled on a daily basis," it said.

"Nonetheless, forward expectations are for more projects to enter the pipeline that in turn would induce cement demand. Thus, we expect growth in cement demand will remain strong even though short-term domestic supplies and high international prices have capped the growth in the recent period."


Highlights of saudi cement industry

- Installed capacity was 30.4 million tonnes in third quarter of 2008 and is set to reach 54 million tonnes by 2010.
- Total output was 25.8 million tonnes in January-September and grew 11 per cent over the same period a year ago.

- Cement sales in the local market reached 23 million tonnes, accounting for 90 per cent of the period's total output and growing by 10.6 per cent on the same period a year ago.

- For the fourth quarter, domestic sales are estimated at 7.5 million tonnes and are expected to grow by 24.2% over the same period in 2007.

- Total output of 34 million tonnes and domestic sales of 30.5 million tonnes are projected for entire 2008, and sales to grow by 13.7 per cent over 2007.

- Cement exports orders of 2.6 million tonnes were met during January-September 2008 and grew 5.1 per cent over the same period a year ago.

- In the medium-term to 2010, domestic sales are forecast to reach 37 million tonnes (69 per cent share) along with exports orders of seven million tonnes (13 per cent) that would absorb 44 million tonnes (81 per cent) out of total projected capacity of 54 million tonnes.

- Short-term domestic supply overhang of 10 million tonnes is seen before 2010.

- Overall demand growth is expected to accelerate after 2010 to absorb industry's capacity of 54 million tonnes, due to the overlapping of many mega projects.

- The eight listed firms reported 7.1 per cent decline in their combined net profit to SAR3.27bn in January-September 2008 period over the same period of 2007. The 17.2 per cent increase in the cost of sales depressed gross margin down to 57.2 per cent in January-September 2008, from 62.2 per cent over the same period a year ago.

- Net profit per tonne of total cement sold (local plus exports) declined to SAR143.5.


Follow Emirates 24|7 on Google News.