The Wave, Muscat completes marina arms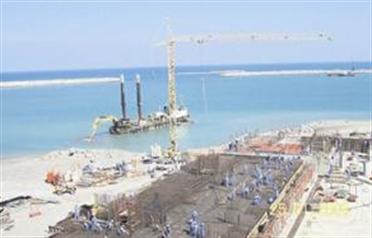 Construction of the arms of the marina at The Wave, Muscat has been completed. The 2km of breakwater and 1.7km of revetments will protect the development from the sea.

The mixed-use development comprises residential, commercial, hospitality and leisure units set around a 6km-long natural beach, a marina and a boulevard area.

The marine structures have been designed considering wave and wind events up to 1/250 year return period which could result in a significant wave height of 5.95 metres for the breakwater. Seismic events and the future rise in sea level has also been accounted for in the design. Significant wave height is defined as the highest of 1/3 waves.

Nick Smith, CEO, The Wave, Muscat, said: "Sea front developments face challenges that need to be dealt with. Threats from rising sea levels and global warming are concerns on everyone's mind when purchasing a waterfront home. At The Wave, Muscat we have applied stringent rules and have incorporated long-term plans in the preparation and design stages to mitigate the impact of these issues."

Primary protection to the marina and development will be provided by the offshore reef breakwater. This structure is 2km-long, located 1km seaward of the marina, and will comprise more than 1,000,000 cubic metres of rock materials and about 18,000 individual concrete armour units called core-loc. The core-loc units weigh 12 tonnes each and heavier 16.5-tonne units are used at the ends of the breakwater, which are subjected to more severe conditions during a storm. The finished height of the breakwater will be over 7.5m above chart datum. The marina and development will be protected from these swells and waves by the east and west revetments.

"We have implemented detailed risk management plans, which have gone beyond the traditional EIA studies and recommendations. The construction at the marina is an example of The Wave, Muscat going above and beyond the standard design practices in order to give our residents complete peace of mind and ensure the longevity of the project," added Smith.

During storms, sea swell will be transmitted through the rock structure of the breakwater together with waves generated by over-topping of the breakwater and deffraction round the ends of the breakwater.

The project is being developed through a joint venture comprising Oman's Waterfront Investments, National Investment Funds Company, and UAE-based Majid Al Futtaim Group.
Follow Emirates 24|7 on Google News.