Thousands of architects eye ThyssenKrupp award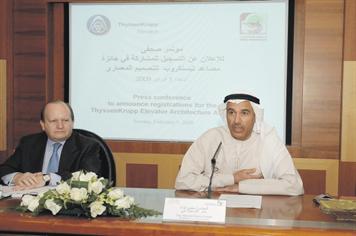 More than 4,650 architects from 108 countries are competing in the ThyssenKrupp Elevator Architecture Award. They are submitting design proposals for a Tall Emblem Structure in Zaabeel Park in Dubai.

The winners are expected to be announced in May.

The competition is being held by ThyssenKrupp Elevator in collaboration with Dubai Municipality, under the auspices of the International Union of Architects.

"Launching an international competition is a successful way of attracting international talents and adds world-class design ideas for the city of Dubai," said Hussain Nasser Lootah, Director General, Dubai Municipality. "It is important for us to continue promoting public awareness of good design and show what architects can do for our community. This competition stimulated enormous interest and we are looking forward to the exciting and creative design solutions it will offer."

He also added that based on the designs there could be a possibility of more than one tall emblem structure; the winner would be located in Zabeel but the next best design could be based in another part of the emirate.

The deadline for posting the submissions to Dubai was January 31, 2009.

Following this, a jury of renowned architects from seven countries and business professionals will review the proposals submitted and select the best winning Designs for awards.

Spain, France, Italy, the United States and China have topped in terms of interest and have registered more than 100 teams each, while the UAE and Egypt follow with 85 and 94 teams, respectively in the rest of the top 10 rankings.

"We are extremely pleased with the record number of registrations that ThyssenKrupp Elevator Architecture Award has attracted this year," said Javier del Pozo, CEO of ThyssenKrupp Elevator Southern Europe, Africa and Middle East, and President of the jury.

"We are thrilled to work with Dubai Municipality and hosting the competition in the emirate," he said.
Follow Emirates 24|7 on Google News.