Time to focus on infrastructure, utilities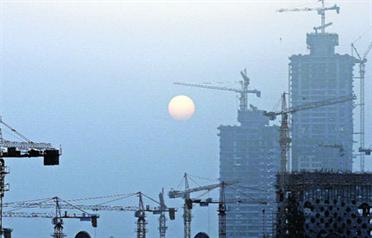 It also noted "government intervention may be required in the construction sector as well as the financial and real estate sectors" since the three sectors go hand in hand and rely on each other, sitting on the same value chain.
Logistics, road networks, utilities, sewage and electricity hubs are required to service new build accommodation. "Yet these essential services appear to have been subordinated to real estate activities," said the report.  Admittedly, infrastructure and utilities come with "a lower return and consequently higher pay back period, but are essential to future development", it said.
According to the report, construction cost inflation (and now deflation) has been a global, rather than a local, phenomenon. "But the impact of rising raw materials and labour costs, coupled with shortages, had previously delayed the roll-out of many developments in the UAE, particularly the large-scale ones," it said. 
Apart from rising input prices, there were fundamental factors behind the recent construction cost inflation, including supply bottlenecks and demand pressures in China, Asia and the Middle East.
"Contractors with previously full order books are now cutting margins to secure work. What was the developer's challenge is now the developer's boon, but most developers are unable to take advantage of this with suffocated lines of credit (self-funded and bank lines) and no demand."
The report said construction costs in the UAE rose at about twice the rate of inflation in 2007 and were up "that much again in the first half of 2008 (our estimate)", according to international real estate, infrastructure and construction consultants, EC Harris. There has, however, been a marked reversal in raw material pricing with commodities and basic materials selling aggressively. 
By "discounting labour costs of around 20 per cent, we think basic materials incorporate around 40-45 per cent of the entire build value", said the report.
Mid-way through 2008, many UAE-based developments were launched creating the "steel shock", crimped by tight supply chains and the price of steel peaked at Dh5,500, it said.
"This is when a number of construction contracts were priced and basic materials were trading at multiples of current prices. With land prices and basic materials then selling at premiums, sub-developers are now at the mercy of the off-plan market. This is not a good place to be with any unsold inventory likely to remain on the balance sheet," it noted.
Rents on heavy equipment have also dropped by 30 per cent in the past two months. "There is now an oversupply of heavy equipment as private developments falter and public infrastructure projects cannot absorb additional capacity," it said. 
"So input prices are coming down and contractors' margins are being crimped, which is a relief for developers," it said. Recently, US credit ratings agency Standard & Poor's estimated that the construction and real estate sectors account for almost 50 per cent of Dubai's gross domestic product.
During the peak in August, per square foot construction costs were being quoted at Dh1,200 in Dubai. At present the average rate is from Dh475 per sq ft to Dh500 per sq ft, with some developments at Dh350 per sq ft, representing a fall of 60 per cent in just six months, it said.
"If developers start to bring developments back on stream (which we think unlikely), input demand increases – contractors, having shed staff in the downturn, will have to ramp up again and so the cycle continues," said the report.
Liquidity is the swing vote here. Developers cannot access lower input prices if they do not have the solvency to kick-start new developments.
Again, construction companies must lodge bonds with banks, which are normally financed by the latter (five to 10 per cent of the construction value). Recently, banks have started to require higher bond deposits (up to 50 per cent of the contract value as the risk of insolvency increases).
"Currently, the best rates seem to be around the 25 per cent level. The pinch point comes when banks stop financing bonds altogether, which we think is already happening. At this point, even if developers did give a green light, contractors cannot finance the bond," it said. 
Most ongoing developments were probably agreed to under fixed price contracts (ironically, to mitigate risk of rising prices). Unless developments are sufficiently large enough to be phased, then the best that can be done is to slow delivery pipelines in the hope that unit sales and liquidity improve."
Contractors, who were previously accepting 20 per cent are returning to the margins of around five per cent. Together, with developers, they hope that current conditions are short-lived and are slowing down work.
"We calculate that those developers that can pause and re-tender for developments not yet in construction can expect to save Dh100m in material costs on a standard tower development. Those that cannot, will try to squeeze concessions out of contractors – with the alternative being to cancelling the contract. The emerging trend is to shelve developments and then retender," said the report.
Follow Emirates 24|7 on Google News.
It is "a good time to redirect activities towards infrastructure and utilities using the current development hiatus as an enforced 'catch up' period", according to an initiation report by Nomura International on the Middle East real estate sector.