UAE and Saudi Arabia to remain regional hub for construction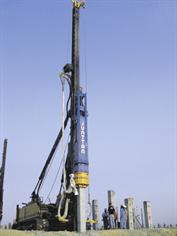 Saudi Arabia and the UAE will continue to remain the hub of construction sector in the region and lead the economy into recovery, a senior official of a Scandinavian machinery supplier for piling works has said.

Speaking on the sidelines of Piling and Deep Foundations Middle East 2010 Conference in Dubai, Miika Eskelinen, Director of Sales of Junttan, a Finland based manufacturers of hydraulic pile, rigs and hammers, said the company is actively looking for dealers to expand its base in the region.

"We are first looking at Saudi Arabia and the UAE, which will be the leaders in the region and lead the recovery. We will base our hub here and then expand into the region," he said. The firm has been operating in the region for the past two years.

Currently the market situation in the region is better than the rest of the world, he added. "Abu Dhabi appears to be moving on. Saudi Arabia is doing well. We are having some business in Kuwait. Qatar and Bahrain are also doing well. We have a new dealer in Iran and we have some deals going on in Iraq as well," he said and added that although Dubai at the moment is slow, it would soon pick up.

Eskelinen also said that new enquiries are coming through but it is taking too long for deals to get finalised. "On the other hand, globally, things are moving strongly in South East Asia and Brazil. 2008 was a record year for us with more than 70 rigs being sold across the world. Each rig costs anywhere between €800,000 (Dh4 million) to €1.3m. Our turnover last year was about 45 per cent down. We managed to sell only 37 rigs," he said. "The biggest hit for us was the Russian market. Everything stopped in October 2008, when the oil price went down and the interest rates went sky high. Then came the bank crisis in the US and that affected the business as well," he added.

"In Europe we are still struggling in certain areas. But Scandinavian governments have put a lot of money into infrastructure building and therefore our customers have been able to survive the bad times.

"Netherlands has been really strong with the country putting a lot of emphasis on infrastructure building. Nothing big is happening in UK, which has taken a big hit," said Eskelinen.

"But at the same time certain markets are growing such as South East Asia, India, Vietnam, Singapore, Malaysia and South America," he said.
Keep up with the latest business news from the region with the Emirates Business 24|7 daily newsletter. To subscribe to the newsletter, please click here.
Follow Emirates 24|7 on Google News.