UAE cement import falls on excess stock and cheap local items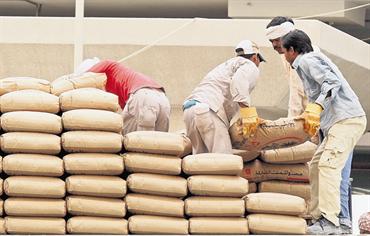 Cement imports into the UAE have dropped significantly, due to the drop in prices of locally produced material and excess stock.

Producers and traders in the UAE say they are preparing for more tough times ahead, as they continue to remain clueless about the future course of the construction sector. Cement in the UAE is currently sold between Dh190 and Dh210 per tonne and a 50kg bag is sold at Dh12.50.

Rajesh Bhatia, Managing Director of Rashidco Cement Company, a supplier of cement and wood materials in the UAE, told Emirates Business that cement imports mainly from Pakistan has dropped significantly.

During the last few years, China, India and Pakistan were major exporters of cement to the UAE.

Following a ban by the Indian Government on cement exports, Pakistan increased its exports into the UAE. In 2008 Pakistan exported cement to the UAE at $70-75 (Dh257-275) a tonne. "Last year, imports from Pakistan and other countries into the UAE had peaked as the local market experienced a significant shortage of cement coupled with increasing prices. Imports then worked out to about 25 per cent cheaper compared to local prices," said Bhatia.

Last available figures show that imports shot up to 2.960 million tonnes in 2007 against the 1.704 million tones in 2006 and 600,000 tonnes in 2005.

As a recent Nomura report said, Chinese clinker is available at $32 to $34 per tonne versus $48 per tonne a year ago. "If we assume $19 as freight cost and $15 as grinding, storage and distribution cost, it would imply a landing cost of cement in the Dubai market at about $66 to $68 per tonne," it said.

"Today the situation has changed significantly. A significant fall in demand coupled with capacity expansion has resulted in excess stock in the market," said Bhatia.

Industry officials also said they are worried about the continuous fall in prices. Mustafa Gorgunel, General Manager of Union Cement Norcem said local cement prices will continue to be determined by market forces. He said producers are stretching the extent to which they can minimise profits in an effort to attract clients. "Cement is being sold today at an-ex factory price of about Dh190 in Northern Emirates and Dh220 in Dubai. Individual factories determine to what level they want to reduce the prices. People are willing to totally let go of their profit margins just to keep their stocks moving," said Gorgunel.

This paper had recently reported that ex-factory cement prices in Dubai dropped between eight and 13.5 per cent (about Dh20 to Dh40) since last month and by 33 per cent since March or April. In October, industry sources had said cement was sold in the UAE at about Dh240 to Dh260 per tonne. "Ex-factory cement prices was Dh340 eight to nine months ago. These are now down to Dh220 to Dh225 in Dubai whereas in the Northern Emirates it is Dh170 to Dh190," said an industry official. "In Dubai, you can buy a bag (50kg) for Dh13 to Dh13.5, while in the Northern Emirates it can be lower by about Dh2," he said.

Meanwhile, according to Bhatia, prices of clinker have also dropped during the past few months. "It has gone down by about 10 to 15 per cent compared to the last quarter. The government has put a price cap on cement at Dh280 per tonne and even reintroduced the five per cent customs duty on imported cement.

The union of cement manufacturers, an unofficial body, has been trying to come up with a uniform price for cement products.
Keep up with the latest business news from the region with the Emirates Business 24|7 daily newsletter. To subscribe to the newsletter, please click here.
Follow Emirates 24|7 on Google News.