Unibeton Readymix to increase production by 20% this year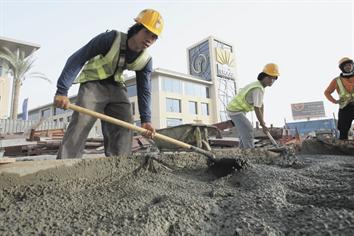 Unibeton Readymix says it plans to increase its productivity by around 20 per cent during 2009. The annual production at its readymix plants touched four million cubic metres and its concrete production could increase to about 4.8 million cubic metres in 2009, according to a senior official.

Concrete prices have also registered a marginal decline and will reduce further, said Denis Beaupre, Vice-President, Unibeton Readymix. "This Tuesday, we had our second best day in production as we touched 17,200 cubic metres. We expect to continue in a similar way provided the projects we are working on in Abu Dhabi continue as scheduled and if our new projects continue as scheduled. During the past few years, we touched an annual growth rate of about 40 per cent. If not those figures, we still expect to post a growth of about 10 to 20 per cent this year," said Beaupre. He was speaking during the Arabian World Construction Summit 2009 organised by Meed.

According to him, the business focus is shifting from Dubai to Abu Dhabi. "Dubai is still a good market but it is slowing down. Some projects are delayed and some are being re-tendered. In fact, very few have been actually cancelled. Most of them are either re-tendering or redesigning their projects," said Beaupre.

"Although we have seen a decline in Dubai, we are expecting the demand to increase in Abu Dhabi. So we can quite easily transfer the resources from one emirate to the other. We are setting up four new batching plants in Abu Dhabi with a combined capacity of about 600 cubic metres per hour," he added.

According to him, Unibeton is geared up to meet the challenges in the current economic situation.

"We are working on some major projects and do not see much reduction in volumes. But other producers are having a tough time. As far as Unibeton is concerned, we did not have any layoffs so far. "However, we are reviewing our targets every month," said Beaupre.

"If it increases, we will increase our work force. Else, we will follow the market trends," he added.

He also warned that the coming months will be a tough time for the construction industry as a whole. "There will be intense competition and it will be a survival of the fittest," he said.

Meanwhile, prices of concrete have declined by about five to ten per cent and will further reduce during the coming months, he said. "The material prices have come down by about 5-10 per cent and we have passed it on to our customers.

It will further go down as cement prices are getting adjusted to the global market. Everything, from transport to oil prices has come down. Cement is highly energy-oriented. However, unlike steel, we will not see a crash in prices. What we will witness is a smooth reduction," said Beaupre.

Meanwhile, a senior official at the company, who did not wish to be named, said that the company has plans to start four new batching plants in Abu Dhabi to cater to the growing demand in the emirate.
Follow Emirates 24|7 on Google News.