Unimix targets Dh200 million annual turnover this year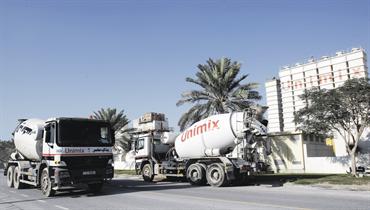 Unimix says it is expecting an annual turnover of Dh200 million in 2010. The company's sales dropped by almost 40 per cent last year as compared to the previous year, according to a senior company official.

Khalid Mohd Salem Al Bakhit, Managing Director at Universal Concrete Products Ltd (Unimix), said the company's target for this year was similar to that achieved in 2009.

Speaking of future opportunities, he said the company plans to expand into Abu Dhabi and Oman after securing projects. He added that as far as Unimix was concerned, the company was quite okay with the performance in 2009, despite a 40 per cent drop in both production and price levels as compared to 2008.

"We expect the same this year but will be happy to achieve a similar sales target for 2010. We will be able to handle a drop of up to 50 per cent," Al Bakhit said.

"In 2009 we achieved 55 per cent of our volume of 2008 and expect the same this year. We have targeted a turnover of Dh200m.

"Comparatively, our turnover was half a billion dirhams in 2008. The price of concrete dropped by almost 35 per cent last year as compared to 2008," he said.

Al Bakhit observed that 2009 was not as bad as expected. "Property sales fell. We got so used to high standards that lasted until 2008 that we are finding it difficult to see normalcy return. We expect 2010 to be a normal market and fare slightly better than 2009," he added.

"2009 was the bridge between the boom time that started in 2005 and lasted until 2008 and normal market conditions that we will see during the next 12 to 24 months," he said.

"There are a lot of factors that we have to take into consideration when we speak of costs. The cost of raw materials came down. Prices of cement and aggregate dropped by half. Cement that was being sold at over Dh400 per tonne is currently being sold at around Dh200 per tonne. Prices of concrete itself dropped by about 32 to 35 per cent in 2009 compared to the previous year."

Only diesel has remained constant throughout. "Therefore transportation costs also did not experience a major drop," he added.

One of the major issues the market faced last year, he said, was the payment crisis. "There were several projects where we faced delays in payments. Now there is an understanding between us and the contractors to schedule payments between six and eight months. There is no other option," he said.

For Dubai, the advantage is that it has completed most of the infrastructure projects. "The bridges, highways and roads were all completed. It is easy to build civil structures. It is the infrastructure work that is more difficult and we in Dubai have managed to achieve significant progress on that front," he said.

For developers who have financial backup, there is no better time to build, he observed. "Compared to their peak in 2007 and 2008, prices have dropped significantly and this is the right time for builders as there will be no further decline in cost. Prices have already bottomed out."

He added that most of the projects where work has started are continuing to move forward. "Work once started has to be completed.

"In fact it was only some of the projects that were announced and where work had not yet started that were rescheduled. There is more work coming into the market. We are getting some tenders and are confident of winning some of them."

Commenting on future opportunities, he said the plan to build nuclear power plants holds significant potential for concrete and readymix companies.

"It is still under design and we expect it to be launched after completion of the design. The plant will be built in three stages.

"The work will start in another 18 to 24 months. For now, we have started the process but are yet to approach the firms involved. I am told that the volume of concrete required will be massive," he said.

He divulged plans for the company to expand into Abu Dhabi. "We have not yet decided as to when we should move. We first want to secure the projects and then move in.

"We are also thinking about Oman. There are a few infrastructure development projects especially the airport project that we are interested in," he added.

"I am looking for prestigious projects. We have the City of Arabia and the Jebel Ali Airport which I am waiting for," he added. Currently Unimix is supplying concrete to several major projects such as the Wadi Walk, Bay Square, JLT H3Tower, Latifa Tower and Bay Square.

The most challenging projects the company has worked on are the Burj Al Arab and Burj Khalifa. "Burj Khalifa was a special project as regards the quality of the concrete used and height which we pumped to.

A total of 330,000 cubic metres of concrete is said to have been used for its completion with 45,000 cubic metres of concrete poured in the foundations alone.

"This structure involved designing concrete that can be pumped to heights that had never been achieved before. In November 2007 we made history by breaking our own world record for the highest single stage pumping of concrete when we surpassed the previous record of 452 m and pumped Grade 80 MPa HPC vertically to a height of 622 m and conveyed it at level 155 of the Burj Khalifa," said Al Bakhit.

"We are proud of our achievement and had no problems. We still have the reserves to go much higher. We can easily pump another 200 to 300 metres higher and are ready to take on the responsibility when the kilometre-high tower is announced," he added.

Al Bakhit said Unimix was established in 1977 and has played a major part in the construction of modern Dubai, producing well over 20 million cubic metres of top quality concrete to date.

"We are one of the first companies to start the readymix business in the Dubai market. Our first project was Dubai Shipping dockyard," he said.
Keep up with the latest business news from the region with the Emirates Business 24|7 daily newsletter. To subscribe to the newsletter, please click here.
Follow Emirates 24|7 on Google News.