UP plans to export F1-X concept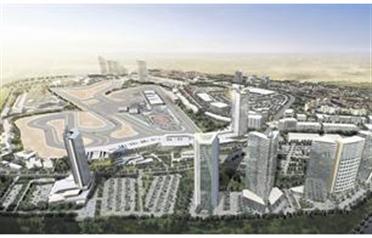 Union Properties is in talks with a number of countries over plans to export the F1-X theme park concept, a top executive has revealed.

"We are still at the discussion stage regarding F1-X theme parks abroad," Chief Marketing Officer Michael Jackson told Emirates Business. He, however, did not name the countries.

The $460 million (Dh1.69 billion) F1-X is a Formula One-themed leisure destination that forms part of the $950m MotorCity development. The Dubai-based developer is also looking to raise more funds even though its board has already approved plans to raise Dh2.5bn by selling non-convertible bonds.

"If there are available funds and liquidity we would look to avail of them," said Jackson, who did not specify the additional amount the company planned to raise.

"The issue of convertible bonds was proposed to the shareholders at an extraordinary general meeting held on January 22, and following discussions it was approved by a majority vote."

Union Properties Chief Executive Officer Simon Azzam said last year that the company was looking to raise up to Dh3bn.

The company intends to complete and deliver projects as scheduled in 2009 but the global financial crisis has changed its business strategy for the year. "Yes, it has [changed our plans], but only as far as new developments are concerned," Jackson said. "Everything else is on-going."

The MotorCity, Index and Limestone House projects are due to be completed and delivered in 2009.

Last August the developer said it planned to acquire 50 million square feet of land in Dubai and was in talks with the government about the matter.

Union Properties, which is yet to announce its full-year and fourth-quarter results, reported a third-quarter profit of Dh245m, up 38 per cent from same period in the previous year.

Chief Financial Officer Zaid Ghoul said previously that he expected full-year profits for 2008 to reach between Dh850m and Dh900m, and increase on the previous estimate of Dh750m to Dh800m.

Emirates Business reported earlier that the company was offering a 10 per cent discount to buyers who were willing to settle their balance before February 15.

In a letter e-mailed to buyers the developer offered a chance to benefit from a "prompt payment incentive" that would save them 10 per cent of the balance due on their units.

Shares of Union Properties closed down 1.53 per cent at Dh0.64 per cent yesterday on the Dubai Financial Market.
Follow Emirates 24|7 on Google News.