Why it's 'back to school' for RMJM in the region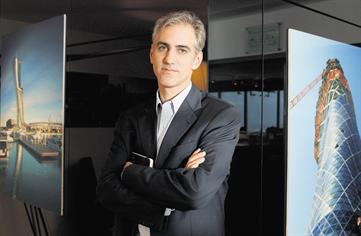 RMJM, the international architectural firm, is upbeat about designing for the education sector in the Middle East and sees great prospects in 2010, according to its Dubai global studio head.

"We are awaiting decision on two universities and another education-focused project in the UAE. We also see exciting prospects in Saudi Arabia, Qatar and Libya this year in terms of growth," said Luis Vildostegui, RMJM Associate Principal and recently appointed Regional Director Global Education, Middle East and North Africa.

Vildostegui spoke with Emirates Business on the practice's newly launched Dubai-based Global Education Studio to meet the growing demand for high-quality education facilities across the Middle East and North Africa. It is a first for the practice.

RMJM is a UK-based international firm of architects with offices throughout the UK, Asia, the Middle East and the US and currently has more than $15 billion (Dh55bn) worth of construction projects on its drawing boards.


What led to the setting up a studio dedicated to education?

This is something we were looking at for quite some time. Many international architectural practices had come to the UAE in the past year or so due to the economic downturn and the slowing economies in Western Europe and the US. We were looking at a slightly different position. We were convinced for many reasons that the education market in this region was over the long term, a market that we needed to be in more seriously. We had been doing a large number of projects from our traditional bases of education. Our firm has a series of over-layers and one of them is the Global Education Studio. We operate anywhere in the world from our resource hubs, which have traditionally been Princeton, Cambridge and Hong Kong.

What were the reasons for choosing Dubai as the hub for the studio?

We found that we were doing a number of projects here and the enquiries were increasing at such a rate that the travel back and forth was simply killing. We had decided a while ago that we will set up a studio in this region and were debating whether that choice would be Dubai in India. The decision to send me here a year ago was the result of a decision that Dubai was the place that we needed to be. Regardless of the short-term situation, 60-plus per cent of the world's population is in a five-hour radius from Dubai and hence it is the choice of a city primed to be the headquarters of a global perspective, and education is a principal player.

We did not officially launch till recently since we were setting ourselves up and getting to know the region. We have four experts in our current team of experts and also avail of the knowledge of the 250 strong RMJM team for the general architectural support. We are very excited about future prospects and it is clear that education is a priority for so many countries not just in the GCC but also in the region in places such as Turkey and North Africa. There is such variety in education projects – nurseries, primary and secondary schools and higher education (again a variety of whether it is a vocational, engineering or arts auditorium).

Could you detail some of the projects in your current portfolio?

Many of our clients have restrictions and hence we cannot talk about all of them due to confidentiality issues. We have two colleges in Libya and current active proposals in Qatar. We are currently under construction with the American School in Dubai. We have a school in Turkey, which is on hold due to fund-raising and we have a series of projects in master planning for broad education systems in the UAE.

We also have a series of proposals pending and we would like to keep those confidential since we are actively competing with other firms in the market. We think that Abu Dhabi has some large plans for schools and there is also huge potential in the GCC and Jordan for our studio.

We have also had a series of conversations with potential clients in Saudi Arabia, which is a new market. But that is a long-term prospect and while we have a representative member of our team there, we are also trying to set up an office.

Are you looking at Mena or further down to the sub-continent?

We are still considering opening offices in India. Under the new organisational setup, it still remains to be seen where the next Indian education projects will be done.

What do you mean when you talk about working "in collaboration with our clients"?

When we start on a project, we involve everyone in the office and this includes the client who gets involved in the debate. We believe that studio mentality is an open collaborative process that demands innovative solutions and that makes our work fresh.

Are you getting any enquiries for designing engineering or medical colleges?

Throughout the region, there is a need for greater vocational training. Some authorities are looking at that and there are some prospects in Kuwait, for example. But it is not enough.

Are all the project enquiries for new schools or are you asked to refurbish existing projects?

I have been wondering when that market will take off. There are lots of primary and secondary schools that are below standard and that will be questioned when new schools come online. A large percentage of demand is for new university campuses on virgin sites. Then we are seeing multiple school projects. However, one of the proposals that we have is a school that is expanding its campus but keeping its existing building. I expect to see a few more next year.

So how would you rate the market?

Mine is not a short-term proposition and education is not a sector that is affected by the economic situation. It is a sector that governments focus on and invest. I am having a hard time answering all the current enquiries. Abu Dhabi holds significant growth prospects. There is still serious potential for growth in Dubai. The Qatar Education City holds opportunities and so does the market in Bahrain. Saudi Arabia is tremendous in terms of projects and prospects. Libya has engaged architects to do 27 universities and we are doing two projects. Knowing that they have to look at a knowledge-based economy, everyone is investing in education. Our client is not one individual but boards who take a collective decisions.

So what does 2010 look like?

We get two invitations to propose for large-scale education projects in a month. A year ago, I was introducing myself to people, but now we are getting invitations at a rate where we are easily poised to double or triple our business within this year. We have four active projects and others on hold. But we also have six proposals that are pending client decision. People say that the market is flat, but I would say that the growth in the education sector will be phenomenal in 2010.


Streamlining business

RMJM has a regional portfolio in the design of educational buildings dating back to the 1970s, including projects in Turkey, Nigeria, Yemen, Jordan, Iraq, Iran, Doha and Dubai. It is currently working on two universities in Libya.

The launch of the Global Education Studio follows the company's recently announced intention "to streamline the business in the challenging economic climate by focusing on areas that are subject to significant government investment", according to a statement.

According to the firm, governments throughout this region are investing heavily in education to better compete in the international marketplace and to realise the potential of their large and growing younger generation. "The UAE devotes 25 per cent of total federal spending to education, and in Libya the government is currently funding 27 new universities," it said.
Keep up with the latest business news from the region with the Emirates Business 24|7 daily newsletter. To subscribe to the newsletter, please click here.
Follow Emirates 24|7 on Google News.