Work to begin soon at Dh10bn South Shamkha project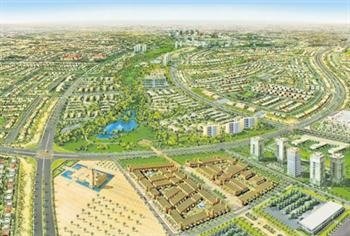 Construction work on the Dh10 billion South Shamkha Development could start soon as Abu Dhabi Municipality and Town Planning Department invite contractors to tender for infrastructure development.

South of Shamkha project developed by Abu Dhabi Centre for Housing and Services Facilities Development will comprise 43 neighbourhoods including 10,000 villas, parks, shopping and retail outlets, mosques, hospitals, clinics, health clubs, schools and entertainment areas. Once completed, the development will be home to 200,000 residents.

South of Shamkha is a 43 million sq m community development located 50km from the city centre.

Infrastructure works include the development of a roads network, water and irrigation systems, storm drainage and solid waste collection systems, a power distribution system, a telecommunications network, and a district cooling system.

KEO International Consultant is the project consultant and Idroesse is the detailed design consultant and PMC for the project.

A senior official of Indroesse Infrastructure, an Italy based engineering firm, yesterday told Emirates Business that an advantage of building now would mean taking advantage of the reduction in cost.

"Today's market condition has led to an increased competition among contractors. Also the building material prices have dropped quite a bit. The last date for submitting the tender documents is February 10," he said.

Indroesse Infrastructure is the consultants for the project and won the €3.5 million (Dh185m) infrastructure design and works supervision contract for Shamkha South Area competing against at least ten other international contenders.

Inviting contractors to apply for the tender, Abu Dhabi Centre for Housing and Services Facilities Development said the infrastructure works to be carried out consists of approximately 80km of arterial roads, and 270km of internal neighbourhood roads, street lighting and signal lights, storm water drainage system, portable water and firefighting network, 22KV power supply network and telecommunications, sewerage network with deep sewers.

Participating contractors should be operating in the emirate of Abu Dhabi and classified in the category special for main roads, streets and related works and have knowledge and working experience of no less than five years for similar projects.

Tendering shall be processed through four separate lots. A bid bond of Dh50mfor each lot or package should be submitted along with the bid offer.

Apart from the infrastructure works the design provided by Idroesse also includes general grading and earthmoving works such as re-shaping of the existing ground of the whole area (about 42,000,000 sq m) and earthmoving works (about 33,300,000 m3 cut and 32,400,000 m3 fill).

KEO International last year won an award at the 2008 MIPIM Architectural Review Future Project Awards in the Regeneration and Masterplanning category at the real estate show in Cannes, France, for its South of Shamkha project in Abu Dhabi.

According to KEO, the masterplan places emphasis on clean, liveable space, with many large parks, landscaped recreation areas, and playgrounds.

A green belt connects district parks with district centres. In November 2006, KEO was awarded the $17m consultancy contract.

By the first quarter of 2008 the conceptual design of the master plan was completed and work on the detailed design started by the end of 2008. The infrastructure works are expected to be completed by 2011.

Meanwhile, Abu Dhabi Centre for Housing and Services Facilities Development has invited local and international project management firms for a prequalification exercise.

The applicants should have been operating in Abu Dhabi and have a minimum of 10 years of experience in project management.

The exercise is in order to enable firms to participate in the Abu Dhabi Centre for future projects such as housing complexes, government buildings, schools and social clubs, roads and infrastructure and other facilities.

The last day for submission is January 14, 2010.
Keep up with the latest business news from the region with the Emirates Business 24|7 daily newsletter. To subscribe to the newsletter, please click here.
Follow Emirates 24|7 on Google News.