Work to resume on many free zone projects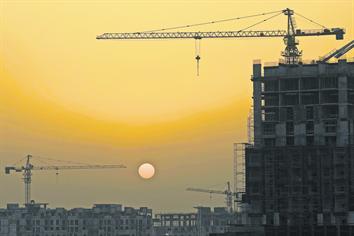 Construction work on many of the on-hold projects within free zones have started to resume, a senior official of the Zoning Authority has said.

According to Mohamed Al Bahri, Director, Zoning Authority Development Control, DTMFZA, yesterday told Emirates Business that developers of other on-hold projects have given a commitment to start work at the earliest.

Speaking during the Piling and Deep Foundation Middle East 2010 Conference being organised by the IQPC, he said: "We met all consultants and owners and most of them have promised that there are certain value engineering being done and redesigning but will restart the project as soon as possible. We hope they will start work in 2010."

According to him, it is only the small developers who are finding it a bit difficult to mobilise resources.

"Big developers are very much in the market. They are, at present, concentrating on committed projects. Construction work is progressing on all projects where commitment has been made to the end user," he said.

"Yes there is a value engineering going on. Given the current economic situation, people are looking more into design, foundation and structural details. More effort is being placed towards optimising the use of material and manpower," added Al Bahri.

Meanwhile, demand for new permits have been pouring in and there is even an upsurge in requests for fast-tracking approvals for designs. "We are still busy with issuing permits to new buildings. Some developers are even demanding fast-track options for approvals," he said.

Usually when a submission is made it takes about five working days for preliminary design and 18 working days for the final design, which includes structural, mechanical and electrical.

However, if developers are willing to pay extra to fast- track the approval for preliminary design will be given in two working days and 10 days for the final design.

"The demand for fast track has increased. The amount for fast track was Dh10,000 but we increased the fees to Dh20,000 just to minimise the fast-track submissions, but the demand has only increased," he said.

Meanwhile, developers are also being pressurised to avoid unnecessary and additional expenditures.

"We have cancelled plans of several projects that have been overdesigned. There are many cases where they are designing the foundation five times more than what is required – a wastage of time, money and material. In fact one of the KPIs for our structural engineer is to find plans with over-designs," said Al Bahri.

In other instances, developers of projects where excavation is complete but have gone on hold are rushing into backfill the whole excavated plots.

"We are requesting them not to backfill the complete excavation but only one-third of the excavated area, just enough to ensure that the ground water will not come up. Recently there was a developer who wanted to backfill seven plots which was excavated at a cost of Dh36 million. We advised him against it and a few weeks later a request was made to continue work on the project," he said.
Keep up with the latest business news from the region with the Emirates Business 24|7 daily newsletter. To subscribe to the newsletter, please click here.
Follow Emirates 24|7 on Google News.