2009 Arab oil income dips by 50%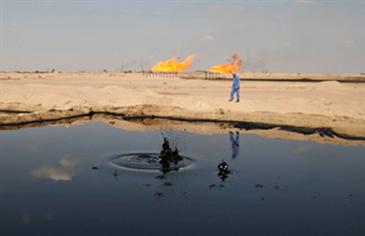 A steep fall in crude prices allied with heavy supply cuts to depress the combined Arab oil export earnings by more than 50 per cent to around $277 billion (Dh1.016 trillion) in 2009, according to an official Arab oil group.

The 10-nation Organisation of Arab Petroleum Exporting Countries (Oapec), which controls more than 60 per cent of the world's proven hydrocarbon deposits, said the oil market remains uncertain despite the recent price improvements, adding this makes it difficult to forecast future developments.

Oapec noted that for the first time since1980, world oil demand fell for two successive years, reaching around 84.3 million barrels per day in 2009, which was around 1.6 per cent lower than in 2008, when demand was 0.3 per cent lower than in 2007. Crude oil supplies also slumped by about 1.7 per cent in 2009 to 84.5 million bpd, according to the report.

It said despite the upward trend followed by Opec's basket of crude since the end of 2008, the average price in 2009 plunged by about $33.4 to $61 a barrel from nearly $94.4 in 2008. Opec's decisions in 2009 to keep production quotas at the same level as 2008, when they were cut massively to 4.2 million bpd, were instrumental in maintaining stability in the oil market, it said.

"Perhaps one of the biggest effects of the sharp price fall for Oapec members was the significant decline in the value of their oil exports, which tumbled by over 50 per cent, from $585bn in 2008 to $277bn in 2009," Oapec said.

"The decline in revenue had a major impact on investment in and financing oil projects. The only exception to the declines was an increase in the industrial countries' commercial stocks, which peaked in the third quarter of 2009 at 2774 million barrels, sufficient for 61 days of forward consumption. This was 10 per cent above the average for the last five years."

Oapec provided no oil production figures but noted that the combined Arab crude output grew to one of its highest levels of around 23.71 million barrels per day in 2008 from nearly 22.34 million bpd in 2007.

Analysts believe Arab oil production dropped to about 22 million bpd in 2009 following supply reductions of more than 1.5 million bpd by the three Gulf oil heavyweights – Saudi Arabia, UAE and Kuwait.

Estimates by the Saudi American Bank group this week showed the combined crude output by the six Gulf Co-operation Council (GCC) countries plunged to around 14.26 million bpd in 2009 from 15.92 million bpd in 2008.

In a comment in its January oil bulletin, the Kuwaiti-based Oapec agreed the market remains volatile as the global economy has not fully recovered and that 2009 was characterized by a decline in all major indicators in the market.

"As we bid farewell to a year crammed with developments that have affected the oil market, we also welcome a new year that we hope will be more positive.

"The year 2009 was characterised by declines in all major indicators on the oil market owing to the global economic crisis that raged throughout the world economy and the oil market in particular," Oapec said. "World economic performance in 2009 declined by1.1 per cent."
Keep up with the latest business news from the region with the Emirates Business 24|7 daily newsletter. To subscribe to the newsletter, please click here.
Follow Emirates 24|7 on Google News.