Adco awards $3.5bn contracts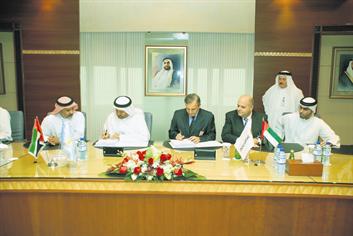 Abu Dhabi's main onshore oil producing company said yesterday it has awarded contracts worth about $3.5 billion (Dh12.85bn) to develop three oilfields as part of an ongoing programme to lift its crude output capacity.

The Abu Dhabi Onshore Oil Operations Company (Adco), which is controlled by the Abu Dhabi National Oil Company (Adnoc), said the contracts cover the development of its onshore Sahil, Asab and Shah fields.

"Adco has moved ahead with its approved plans and has awarded two engineering, procurement and construction (EPC) contracts for the development of its Sahil, Asab and Shah Fields," the company said.

Adco said the Asab Field Development Project has been awarded to Petrofac International Limited at a lump sum price of $2.3bn, while the Sahil and Shah Fields Development Project has been awarded to a consortium of Tecnicas Reunidas and CCC at a value of about $1.2bn.

"This award is a clear sign that Adco is proceeding ahead with all its development plans. Adco would like to thank the Supreme Petroleum Council, Adnoc and its international shareholders for their trust in Adco to proceed with the execution of this massive project despite the current developments in the market," it said.

"Adco would like to further thank both the EPC contractors for their responsible actions demonstrated by their agreement with Adco on revision of previously submitted project costs."

The company described these contracts as a "clear indication of Abu Dhabi's position as a venue for several energy projects".

"The Abu Dhabi Government has no intention of postponing any of its strategic projects that would allow the country to achieve its future production targets.

"Likewise, these projects and the massive investments demonstrate the country's commitment to play an active role in securing future energy supplies despite the currently available spare capacity," Adco said.

The award of the contracts is part of an ongoing major energy development programme by Abu Dhabi to add nearly 650,000 barrels per day to its sustainable crude production capacity within two years and maintain its position as one of the world's largest oil suppliers.

Adco, the largest crude producer in the UAE and one of the top international oil suppliers, is expanding its capacity by nearly 400,000 bpd to 1.8 million bpd.

According to the Saudi Arabia-based Arab Petroleum Investment Corporation (Apicorp), an affiliate of the 10-nation OAPEC, the UAE is expected to spend nearly $12.5bn on crude capacity expansion ventures between 2008 and 2012.

The company's funds are part of the total investments of about $31.7bn in the energy sector, including oil, gas and electricity.

The UAE's current sustainable oil output capacity is estimated at 2.7 million bpd and the new projects would lift it above 3.3 million bpd after 2010.

A large part of the increase would come from such giant fields as Umm Shaif and Upper and Lower Zakum, among the biggest oil basins in the world.
Follow Emirates 24|7 on Google News.