Adnoc inks $560m deal with NPCC, restarts refinery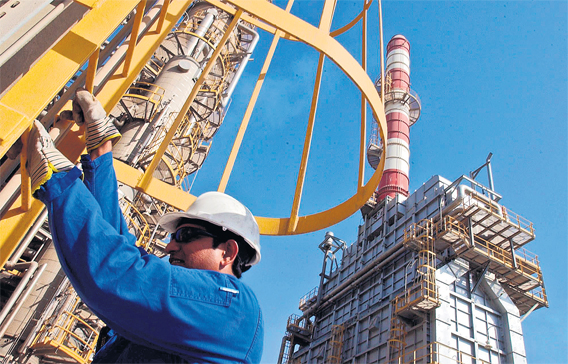 The UAE has fully restarted its smallest refinery after maintenance, a top refining official said yesterday, speaking on the sidelines of the Middle East Refining Conference organised by the World Refining Association.
Also, as part of its expansion plans, Abu Dhabi National Oil Company (Adnoc), has signed a $560.4 million (Dh2.06 billion) oilfield development deal with the National Petroleum Construction Company (NPCC).
The 85,000 barrels per day (bpd) Umm Al Nar refinery restarted last week, said Jasem Ali Al Sayegh, General Manager, Abu Dhabi Oil Refining Company (Takreer). Takreer, the refining unit of state-run Adnoc, is processing around 400,000 bpd, below the 500,000 bpd combined capacity of its two refineries as it lacks condensate, Sayegh said.
"When the condensate is in full production, we will reach maximum capacity. We have some spare capacity in our condensate splitters and will fill this once the condensate production from the upstream starts. We'll reach this hopefully in the second quarter of this year," he said.
The condensate units take light oil and split them into different products. Abu Dhabi's total condensate splitting capacity is 280,000 bpd, an Adnoc official said. Each splitter has a capacity of 140,000 bpd. New upstream gas production plants being commissioned are expected to produce up to 100,000 bpd of condensate, the official added.
Sayegh said Takreer will complete a project to double the capacity of the UAE's largest oil refinery – the Ruwais plant – by the end of 2013. This expansion will be fully operational by the first quarter of 2014, he added.
The Adnoc agreement with NPCC is meant to develop infrastructure at the Qusahwira oilfield, according to a statement from Abu Dhabi Company for Onshore Oil Operations (Adco).
The agreement includes building an oil gathering system and a pipeline to the Asab field. The company plans to add 30,000 bpd from the first phase of development of the Qusahwira oilfield by 2013.
New units at Jebel Ali
Speaking at the same venue yesterday, a top official said Dubai's state-owned Emirates National Oil Co (Enoc) expects to start new units at its Jebel Ali refinery in May. The plant will reach full capacity of 120,000 bpd in the third quarter, up from the current 72,000 bpd, said Guruswamy Raghunathan, General Manager. Commissioning of the new units has been put on hold briefly due to technical issues. "As with any start-up, there will always be incidents, but by the middle of April we should activate most of these units," he said.
Enoc began commissioning units at the plant in December after completing its $850m overhaul. The project's initial budget was around $500m, but Jebel Ali suffered cost inflation as oil ran up to a record high near $150 a barrel in 2008.
The upgrade would allow Enoc to convert naphtha to reformate, and give it capacity to produce 40,000 bpd of the gasoline component. The upgrade has added a reformer and a hydrotreater to the plant. It would also produce sweet naphtha with a sulphur content of 5 parts per million and a high paraffin content. "These products will likely go to the Far East market," he said.
Chemicals Cty FEED contracts
Abu Dhabi National Chemicals Company (Chemaweyaat) will award the front-end engineering and design (FEED) contracts for the $10 billion (Dh36.73bn) first phase of the Industrial Chemicals City in the second quarter of this year, its chief executive said yesterday. "The feasibility studies are over, the FEED contract is next, before summer," Mohammed Al Azdi said at the Middle East Refining conference, declining to give details.
Chemaweyaat is a joint venture between Abu Dhabi Investment Council, which owns 40 per cent; International Petroleum Investment Company, which holds 40 per cent; and the Abu Dhabi National Oil Company, owner of 20 per cent. The first phase involves building Tacaamol, a petrochemicals complex at the Taweelah industrial city.
Follow Emirates 24|7 on Google News.