Arab real crude prices dive due to inflation and fluctuating dollar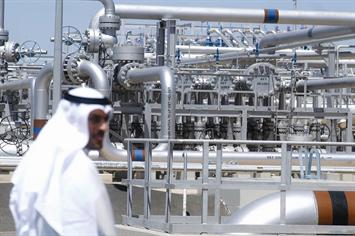 Arab states have netted record oil export earnings over the past five years but the real income was sharply lower due to inflation and a weakening US dollar, according to estimates.

In 2008, the 11-nation Organisation of Arab Petroleum Exporting Countries (OAPEC) is projected to have earned in excess of $600 billion (Dh2.2 trillion) from crude oil sales, its highest income in current prices.

But in real terms, the income was lower by nearly $180bn, taking into account the dollar's 1995 value and inflation in industrial oil consumers.

"Of course last year's Arab oil revenues climbed to an all-time high because of a surge in average crude prices and the region's output," said Ihsan bu Hlaiga, a renowned Saudi economist. "But the revenues were much lower if we take into account the fall in the dollar's value and inflation in major oil consumers."

Independent estimates put OAPEC's nominal oil export earnings at around $610bn in 2008 but in 1995 dollar price, they were as low as $440bn.

In 2007, income stood at $408bn in current prices but did not exceed $333bn in real prices, according to figures by the Paris-based Arab Petroleum Research Centre (APRC), which acts as an advisor to OAPEC.

"This is because in 2007, nominal oil prices averaged around $69 while in 1995 dollar price they stood at nearly $56.5," APRC said in its monthly magazine.

"The index for the 1995 dollar price represents the GDP deflator of industrial countries as published by the IMF."

Despite the surge in oil prices to their highest level last year, Arab nations and other crude producers considered them as not too high given their relatively low real value, soaring global inflation rates, and the weakening of the US dollar, the official price of oil exports by the Arabs and other producers. Experts put the real oil price in 2008 at around $75, nearly $20 below their nominal level. In the first two months of 2009, nominal prices averaged around $40 but they did not exceed $30 in real terms.

As crude prices are expected to average around $40-50 a barrel this year and OAPEC's production will likely dip below 19m barrels per day, the Arab crude export earnings could dive below $300bn in current prices. The income could be as low as $200bn.

"Given the rapid growth in their population, rising development needs and low dollar, the surge in crude prices over the past few years was a boon for Gulf countries," an oil analyst said. "This year and possibly next year, it is a real problem considering the low level of both nominal and real oil prices.

"Some of them could be forced to withdraw from their overseas assets, which they have struggled in the past five years to replenish."

The figures showed OAPEC's oil export income stood at around $380bn in current prices in 2006 but nearly $317bn in real terms. In 2005, nominal revenues were put at nearly $316bn and real earnings at $269bn.

The report also showed a big gap between nominal and real crude prices over the past few years, ranging between $1 to $20 a barrel during 1995-2008.


OAPEC?

The Organisation of Arab Petroleum Exporting Countries or OAPEC is a multi-governmental organisation, headquartered in Kuwait, which co-ordinates energy policies in Arab nations, and whose main stated purpose is developmental.

On January 9, 1968, three of the then most conservative Arab oil states, Kuwait, Libya and Saudi Arabia, agreed in Beirut to found OAPEC, aiming to separate oil production and sale from politics in the wake of the 1967 oil embargo related to the Six Day War.

Its eleven members are Algeria, Bahrain, Egypt, Iraq, Kuwait, Libya, Qatar, Saudi Arabia, Syria, Tunisia and the UAE. Tunisia asked to withdraw in 1986 and its membership is currently suspended.
Follow Emirates 24|7 on Google News.