Aramco looks to Gulf offshore to boost gas output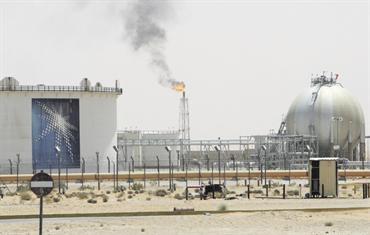 Saudi Aramco is "fast-tracking" development of two Gulf offshore non-associated gas fields – Arabiyah and Hasbah – as the next major step in Saudi Arabia's "strategically vital" gas expansion plan, Cyprus-based energy and economic publication Middle East Economic Survey (Mees) has said in its new report.

"Demand for gas is surging on the back of massive growth of petrochemicals production, power generation and water desalination. But gas exploration through joint ventures with international oil companies in the Empty Quarter has so far been disappointing, and with associated gas output likely to be capped by Opec production restraints for some time, the company [Aramco] has sought a remedy," it said.

Mees said details of the project are sketchy but they are part of Aramco's latest five-year plan until 2014. It said the fields are expected to provide around 1.8 billion cubic feet of gas a day when completed, the report said.

The proposal to develop Arabiyah and Hasbah was accepted without delay because the two projects can be brought online within four to five years as gas demand in the Kingdom soars. Furthermore, the fields would produce high sulphur content gas and that means additional expenditure as far as processing is concerned.

"High sulphur levels and the offshore location of Arabiyah/ Hasbah projects will make for relatively expensive development," Mees said. It will cost Aramco around $5.5 (Dh20) per million British thermal unit (BTU) to produce gas from the two fields.

That the gas produced from these fields is meant for internal consumption in Saudi Arabia makes the returns seem less profitable, the report said. "Barring any change in policy, Saudi Aramco will be required to sell gas to its customers at the Saudi standard internal price of $0.75 per million BTU," Mees said. The selling price for the gas is to be close to one-eighth of its production cost.

"The price, comparable with other regional gas arrangements, may have been feasible when dealing with ultra-cheap associated gas, but with much new gas output in the Kingdom and wider Middle East Gulf expected to come from more expensive non-associated reserves, including tight, deep, high-sulphur reservoirs, such prices are increasingly untenable," it said.

Considering business fundamentals, Riyadh will have to adjust prices upwards in order to unlock its geological gas potential, Mees said. "For the moment, the demand for cheap gas to expand industrial development and provide the much-needed employment seems to be trumping arguments to put gas developments on a sustainable basis," the report said.

"While the internal price will prove a barrier for global oil firms and commercial entities, such as the SRAK joint venture with Shell, Saudi Aramco [and Total] could theoretically continue projects like Arabiyah/ Hasbah at a loss. However, Saudi Aramco is run on a commercial basis and mixing business models is hardly best practice and in longer term providing feedstock at below cost is unlikely to foster a competitive or efficient Saudi petrochemical sector," the report added.

The Mees report comes at a time when most Gulf companies are putting their oil expansion projects on the backburner, Saudi Aramco is going ahead with its gas exploration projects. "The cuts will be more prevalent among oil projects; gas and infrastructure projects are expected to stay relatively safe," Booz and Company, a management consultancy firm, said in its report.

"Indeed in the GCC, gas has upstaged crude exports as the focus of energy investments, bolstered by industrial development and the power needs of a growing population," it said.

Qatar, which has the third-highest gas reserve in the world, has several gas projects on the cards this year, including prominent downstream LNG and gas-to-liquid projects. Gas is being projected as the fuel that will meet the region's power and industrial sector needs. The petrochemical sector in the GCC, which is taking steady steps towards enhancing ethylene production capacity, is also to meet its fuel needs from gas.

Saudi Aramco recently announced it had awarded a contract for the Karan gas field to J Ray McDermott, a Houston-based company.

On the other hand, Aramco announced on February 28 that South Korean industrial giant Hyundai had won the lump-sum turnkey contract worth $1.3 billion for the Karan gas facilities package. "The scope of this package includes building gas processing trains consisting of gas handling, gas sweetening, acid gas enrichment, gas dehydration and supplementary propane refrigeration," Aramco said.

"This package will also include the inlet and utilities facilities to support each processing gas train."

Mees estimates that the Karan schedule has been accelerated, allowing for some production to come on-stream in October 2011. "But the majority gas capacity is not likely to be onstream before 2012," it said.

According to Aramco's annual review published the last year, its total raw gas output will be enhanced from eight billion cfd in 2007 to 13 billion cfd by end-2011.
Follow Emirates 24|7 on Google News.