Austrian firm OMV and Adnoc discuss gas projects in UAE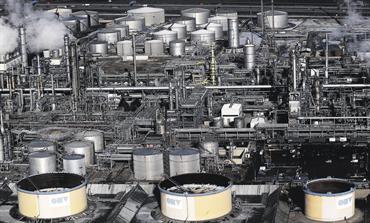 Austrian oil company OMV is in preliminary talks with state-run Abu Dhabi National Oil Company (Adnoc) to undertake gas projects in the UAE, said an OMV executive.

The UAE has the world's fifth-largest gas reserves but has been slow to develop them and gas supply has lagged demand from power plants and industry.

The UAE is looking at exploiting unconventional reserves as it aims to boost domestic supply, and OMV is among companies competing for future deals.

"We have a number of project ideas," OMV's Klaus Angerer, Director of Business Development in the Middle East, told reporters on the sidelines of an energy conference. "Our feeling is there will be a positive response. It's very, very preliminary. Abu Dhabi is interested in talks with companies like ours," he said.

OMV is 20 per cent owned by the Abu Dhabi Government through the emirate's investment unit the International Petroleum Investment Corporation (Ipic).

It raised its stake from 19.6 per cent in January.

"We have a partly local heritage anyway, with the Ipic stake. We're very committed to working here."

OMV had experience in working with mature and complex reservoirs, Angerer said, adding: "We have learned how to squeeze out the last barrel from existing reservoirs and this is an experience which we want to apply wherever we are invited," he added.

The UAE and ConocoPhillips have formed a joint venture to pump gas from the sour gas Shah field through a $10 billion (Dh36.7bn) project.

The gas has a high content of around 30 per cent of potentially deadly sulphur dioxide, making it tougher and more expensive to produce than more conventional gas reserves.

Future similar projects would interest OMV, Angerer said. Firms are jostling to position themselves in the UAE in the hope the government would decide to change the structure of UAE's oil and gas concessions when existing deals expire.

"I think that is safe to say for almost everybody," Angerer said, when asked if OMV was looking for a stake in future concessions.

The UAE's oil and gas concessions are split between an onshore unit, Adco, an offshore unit, Adma-Opco and a third unit for the giant Upper Zakum offshore field called Zadco.

Adco's concession would expire in 2014, while the Adma-Opco concession would expire in 2018.

The UAE Government is considering whether to renew the concessions or to break them up into smaller concessions on a field-by-field basis.

Any changes could give opportunities for long-term involvement for firms that to date have no participation in the sector.

OMV and Ipic signed a memorandum of understanding in 2007 to look into possible co-operation on international oil and gas production opportunities.
Keep up with the latest business news from the region with the Emirates Business 24|7 daily newsletter. To subscribe to the newsletter, please click here.
Follow Emirates 24|7 on Google News.