Aviation hero flies high with solar plane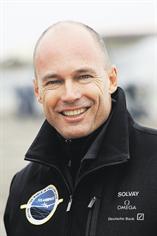 For the Wright brothers, getting a plane into the air was enough. For Bertrand Piccard, that plane must be powered by solar energy – and be able to circumnavigate the globe.

Piccard will bring a model of just such a plane to the UAE today, making a fervent pitch to investors at the World Future Energy Summit in Abu Dhabi this afternoon.

"If an aircraft is able to fly day and night without fuel, propelled only by solar energy, let no one claim that it is impossible to do the same thing for motor vehicles, heating and air conditioning systems and computers," the President and Pilot of the Swiss project Solar Impulse told Emirates Business in an interview ahead of the conference.

"I am a great admirer of Abu Dhabi's vision for energy diversification. And we could make some of our solar test flights here if we find interesting partners," he said, adding that his

presence in Abu Dhabi was part of a Swiss delegation aimed at showing what can be done in terms of using clean technology and saving energy.

Piccard, 51, has raised €45 million (Dh165m) of a total €75m he needs for the entire project. For the rest, he has said he isn't looking at government funding but corporate and individual contributions through the sale of solar cells mounted onto the aircraft's wings.

"We count today more than 26,000 friends in our Supporters Program all around the world. They either signed up for their name on the fuselage of the aircraft [pioneers] or adopted a solar cell [innovators], or just want to be regularly informed about the project advancements. So you see it's more than just selling solar cells, it's about being part of the project and sharing the same values as Solar Impulse," he said.

Piccard, who is a sort of latter-day Charles Lindbergh, says he was struck by the idea of a flight powered by renewable energy right after he finished piloting the first non-stop balloon around the world.

"We took off with almost four tonnes of liquid propane and landed with only 40 kilos.

"Realising that the lack of fuel could have caused our expedition to fail, I made a promise to myself. The next time I'd fly around the world, I'd do it without fuel. I am looking forward to talking about the project at the World Future Energy Summit in Abu Dhabi, and hope that it helps to demonstrate the potential of renewable energies," he said.

In December, while the world was distracted by the climate conference in Copenhagen, Piccard's team saw their solar airplane take flight.

With the wingspan of a Boeing 747-400 and the weight of an average family car at 1,600kg, the single-seater Solar Impulse HB-SIA, the first airplane designed to fly day and night without fuel, stayed in the air for a little over 1,000 feet. It drew energy from four, 10HP electric motors fed by over 12,000 solar cells mounted onto its wings.

This short flea hop, as it was, demonstrated there clearly is something to the whole idea of solar flight. [By contrast, Orville Wright flew a mere 120 feet in his first flight at Kitty Hawk in on December 17, 1903].

Over the course of this year, Piccard wants to proceed, progressively, to higher flights, he said, "till we reach the notion of 'perpetual flight'."

He wants the first night flight propelled only by solar energy to take place this summer and once data from flights made by this prototype is made, he hopes to build a second aircraft that will cross the Atlantic and then fly around the world. He hopes this will happen by 2012, he said.

"The route will approximately follow the tropic of Cancer eastbound. The round the world journey will start around May in order the get the maximum of daylight," he said.

Night flight will be made possible by using the solar cells on the wing to charge 400kg lithium-polymer batteries. While the aircraft will necessarily need to stay above the clouds, during the day, the solar cells will provide the energy to run the four propellers at an altitude of 9,000 metres and charge the batteries. As the sun begins to set, the plane will slowly glide down to 1,500m and then fly, battery-powered, through to the next morning, when it will climb back to 9000m and begin the process again.

Pollution-free air travel is the holy grail of the tourism industry. Airlines are among the largest contributors to greenhouse gas emissions worldwide, and as air travel continues to grow, some commentators predict they could be responsible for up to 50 per cent of emissions in 40 years if left unchecked – from around three per cent today.

But Piccard insists he isn't interested in profiting from commercial solar-powered flight. "Solar Impulse has no commercial goals. What we want to do is to demonstrate what can be achieved when pushing to the limits of the actual technologies. We'll prove that man can fly night and day without a drop of fossil energy.

"It is the industries' role to make it profitable and to commercialise it."

Asked about the long-term applications of solar-powered flight, Piccard chose not to offer any sort of roadmap for commercial airline companies. "We want to encourage as many people as possible to rely on clean technology and save energy and natural resources. In that sense, our goal is to revolutionise the behaviours, not the aviation business!

"Currently, technology will only allow the transport of a single person on a day and night flight, and this with a wingspan of 64m," he said. "But if we go back into history, when the great Wright brothers got their first plane to fly a short distance in 1903, could they have imagined that 66 years later, two men would walk on the moon?

"We believe what is important here is the pioneering spirit."
Keep up with the latest business news from the region with the Emirates Business 24|7 daily newsletter. To subscribe to the newsletter, please click here.
Follow Emirates 24|7 on Google News.