Borouge set to double production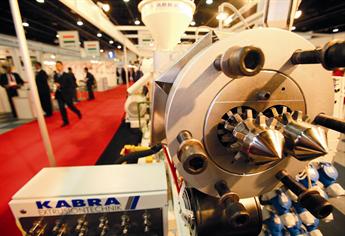 As part of its long-term strategic plan, Borouge, a joint venture between Abu Dhabi National Oil Company (Adnoc) and European plastics major Borealis, is in the process of doubling its production capacity to cater to new geographical regions on its business map.

The company has chalked out major expansion drive to take the total capacity to 2.1 million tonnes by 2010. To enhance the production capacity, the UAE petro major is setting up Borouge-II facility at Ruwais, Abu Dhabi, where its existing petrochemical complex with an installed capacity of 650,000 metric tonnes, is located. After the second facility, the company is also mulling over setting up its third unit at the same location to take the capacity to 4.5 million tonnes in the near future.

"This expansion involved a couple of billion-dollar investment to increase the production capacity by more than three times. We are planning to set up our third facility also. As the feasibility study is going on, I cannot divulge the details about it. We are covering the ME, Asia, Australia, New Zealand and African markets," Hussain Sultan Lootah, Senior Vice-President (ME), Borouge Pte Ltd, told Emirates Business.

"We are facing two major challenges. One is ongoing global economic crisis and the second is huge capacity additions in the petrochemical industry. Almost all the companies are going for capacity enhancement. We will capitalise on it as our entire expansion plan is focused on value addition. This is our strength and we carry it on successfully. We have logistics hub in Shanghai to take care of our operations in Asia and far east regions." said Hussain Sultan Lootah.

With the new plastics innovations in materials and machines entering the market, there is an increasing pressure to keep prices down. On the other hand, contrary to the expansion plans of the petrochemical companies, there is a dip in the demand following the economic slowdown.

"Definitely, the demand is not increasing and moreover prices are down now. Anyhow this expansion plan is a part of our long-term strategy. Prices are going down. Customers are trying to reduce cost of their stocks. We expect second half of 2009 will improve the conditions in the market. We also foresee increasing supplies to other areas in the later part of this year. We work closely with our strategic customers to weather financial crisis so that its risks can be reduced," said Hussain Sultan Lootah.

On increasing concern against plastic usage, he said: "We give utmost priority to environment protection. We encourage environment-friendly products. We are actively co-ordinating with environmental authority. We are at the forefront of next-generation plastics innovation. We have an innovation centre in Abu Dhabi to support our clients in developing their products. We are very active at Pipe Academy, in which all GCC producers are members, to support plastic industry in the region."

Borouge and Borealis deploy Borstar technology to produce versatile polymers in end-use plastics applications in water, gas, power, communication systems, automotives and other industrial usage.
Follow Emirates 24|7 on Google News.