China looks for foothold in Nigeria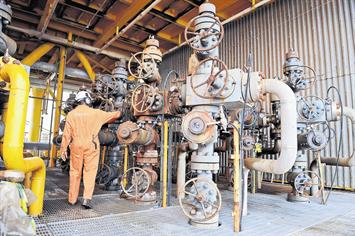 China's involvement in Nigeria's oil sector is still at its beginning stages, China's foreign minister said on Friday, as Beijing looks to build a major foothold in Africa's biggest energy reserves.

"In China, we do need to import more oil from other countries, including Nigeria. I think we have just made a beginning. We believe a lot more can be done jointly," said China's Foreign Minister Yang Jiechi after meeting his Nigerian counterpart in Abuja.

A top Nigerian official last month said China has offered to invest as much as $50 billion (Dh183.5bn) to acquire six billion barrels of Nigerian oil reserves. But this has not been confirmed by the Chinese government or industry officials.

Yang, who also met with Vice-President Goodluck Jonathan, declined to give details on oil talks with Nigeria.

Several state-run Chinese oil firms, including Cnooc, have approached Nigeria about Beijing's search for proven oil reserves, which include oil blocks held by Royal Dutch Shell, Exxon Mobil and Chevron.

Nigerian government officials confirmed its oil blocks were one of the main topics of discussion with Yang, who is on a diplomatic tour of Africa. "We have been in discussions with them. We are looking at how we can accommodate their interest. The discussion is ongoing," said Nigerian Petroleum Minister Rilwanu Lukman after meeting Yang.

Industry executives say Nigeria is using the possibility of a Chinese bid for its oil as leverage in difficult contract renewal negotiations with its existing Western oil partners.

Nigeria's junior oil minister said in September China would not be given all the reserves it was seeking, but Nigeria's state-run NNPC could sell stakes in joint ventures with existing oil partners if Beijing offered the right price.

Shell, which is one of several Western oil firms that operates in Nigeria through joint ventures with NNPC, has vowed to fight any possible efforts by the Nigerian Government to hand control of its fields to Chinese oil companies. Nigeria's foreign ministry said it also discussed China's potential role in helping improve the country's railroads and satellite communications.
Keep up with the latest business news from the region with the Emirates Business 24|7 daily newsletter. To subscribe to the newsletter, please click here.
Follow Emirates 24|7 on Google News.