China's top firms sell petrol to Iran as others back out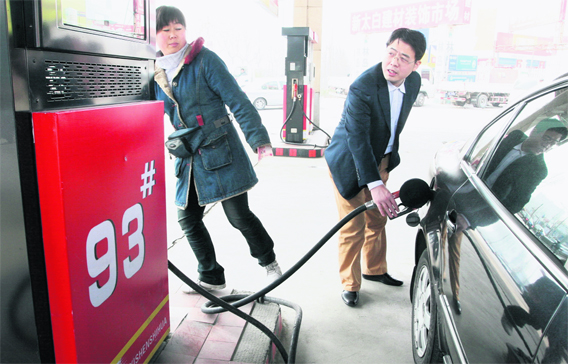 State-run Chinaoil has sold two petrol cargoes for April delivery to Iran, industry sources said yesterday, stepping into a void left by fuel suppliers halting shipments under threat of US sanctions. Beijing, which has close economic ties with Tehran, has resisted sanctions proposed by Western powers on Iran's energy sector that aim to press the Islamic republic to curb its nuclear programme.
US politicians want to impose unilateral sanctions on fuel suppliers to Iran, and several of the world's top oil companies and trading houses have already curbed sales to pre-empt potential penalisation of their US operations in future.
But while others back out, Chinaoil has sold a total of about 600,000 barrels worth around $55 million (Dh201.85m) to the Iran.
The cargoes were Chinaoil's first direct sales to Iran since at least January 2009, according to Reuters data. Chinese firms have previously sold through intermediaries, traders said.
"Prior to this there was some third-party trades going on, but this was a direct sell," a trader said.
Chinaoil is the trading unit for China's top energy group China National Petroleum Corporation (CNPC), which is the parent of US and Hong Kong-listed PetroChina.
A CNPC spokesman was unable to comment on the sale. Another Chinese company, Sinopec, was also poised to resume gasoline sales to Tehran following a hiatus of nearly six years, trade sources said. Sinopec is Asia's largest refiner.
Sinopec's trading arm Unipec booked a vessel to load 250,000 barrels in Singapore on Tuesday, with options to discharge in the Gulf. The cargo was likely to go to Iran, trade sources said.
A Sinopec spokesman was not immediately available for comment.
Unipec sold petrol to Iran between 2001 and 2004. State-run Zhuhai Zhenrong, the world's largest single lifter of Iranian crude, also used to be a regular supplier to Iran.
Despite tough talk from the United States and the West and a number of suppliers halting shipments, Iran has maintained robust imports of petrol from the international market, also buying from Malaysia's state oil firm Petronas and France's Total.
In March, the Opec member purchased around 128,000 barrels per day (bpd) of petrol, steady to imports made the previous month, traders said.
"As long as there is money to be made, and economic benefits to be taken advantage off, Iran will always find ready sellers of petrol from the international market," a trader said. "The politicians don't understand markets... sanctions are cosmetic."
Earlier this month, Lukoil, Russia's No2 oil company, joined a growing list of international oil companies and trading firms who have stopped petrol sales to Iran.
In March Anglo-Dutch oil firm Royal Dutch Shell announced that it had stopped petrol supplies to the Islamic republic joining two of the world's largest independent trading companies Glencore and Vitol who had taken similar decisions.
Iran, the world's fifth-largest oil exporter, has been under mounting pressure by the United States and its allies to halt uranium enrichment. The West says that Tehran is using its atomic programme to develop a nuclear bomb, while Iran insists it is for electricity.
Follow Emirates 24|7 on Google News.