Dana Gas makes second discovery in Egypt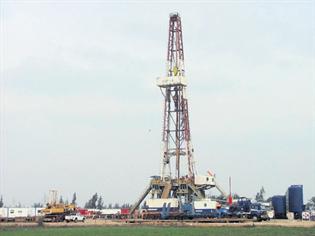 Dana Gas said yesterday drilling operations in its concession in Egypt had resulted in a second major gas discovery that will boost the company's output through 2009.

The Middle East's first regional private sector natural gas company said it made the discovery of gas and condensate at its Salma-1 well in its Nile Delta Concession.

The report followed last month's announcement by the company of a significant discovery of gas and condensate reserves, estimated in excess of 130 billion cubic feet (bcf) of gas, at its El Basant-2 well, also in the Nile Delta Concession.

The Salma-1 well is the company's second well drilled in the West Qantara Concession, approximately 15 kilometres from Dana Gas's South Manzala processing facilities.

It was spudded on December 1 last year, reaching a total depth of 2,231 metres.

The first production test on the well was initiated before the end of December and the well penetrated 25 metres of net pay in the good quality sandstone reservoir of the Abu Madi formation, and additional reserves are currently estimated to exceed 150 billion cubic feet of gas, the Sharjah-based company said.

"We are very pleased with the results of Dana Gas's aggressive drilling programme last year, and the excellent results yielded by the Salma-1 well definitely call for more exploratory drilling in the area, where there are several similar prospects which we will be planning soon," said Ahmed Al Arbeed, Dana Gas Upstream Executive Director. "These discoveries have already achieved the ambitious targets we set for 2008 and will potentially double the company's reserves in Egypt, setting a strong foundation for further growth in reserves and production."

Hany Elsharkawi, Dana Gas Country Director for Egypt, said the first production test has produced 17.2 million cubic feet of gas per day and 415 barrels (bbls) of condensate per day through a 36/64 choke, giving a total of 3,280 barrels of oil equivalent (boe).

"A second test in a shallower Abu Madi reservoir zone will be carried out once the first production test has been completed, and we are also preparing a development plan, which will include several appraisal and development wells for Salma-1," he said.

"A testing programme is currently underway to test all hydrocarbon potential zones for this discovery and determine the total volume of the new reserves in the area, which are currently estimated to exceed 200 billion cubic feet of gas."

Dana Gas ended 2008 with a daily production rate from its Egyptian operations of 31,640 boe and an average annual rate of 28,900 boe. Dana Gas's aggressive drilling programme in the past year has yielded multiple discoveries in different areas of its Egypt concessions, significantly enhancing the company's reserves. Consequently, both production rates and asset valuations are set to be enhanced in 2009.

Last week, Dana Gas said it expected growth in its production and operations this year. The company's record performance in 2008, when its revenues peaked at Dh901 million in the first three quarters.

"We expect a strong year of growth in both production and operations in 2009, building on the company's significant achievements of 2008, when it achieved revenues of Dh901m in the first nine months of the year, and grew production by over 50 per cent with start-up of its major gas project in Kurdistan, and further discoveries in Egypt," Dana Gas Executive Chairman Hamid Jafar said.
Follow Emirates 24|7 on Google News.