Diesel price cuts unlikely if oil stays near $40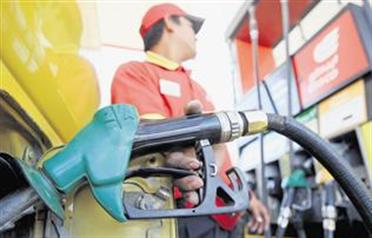 Diesel at pumps in Dubai and the northern emirates may remain at its current price of Dh10.85 per gallon if international prices of crude oil remain fluctuating in the $40s a barrel.

"We have been reducing the price of diesel per gallon at pumps on a regular basis since the summer because the international prices have been dropping on a regular basis and with average equal segments," said Dubai-based Emirates National Oil Company Group Brand and Marketing Manager Khalid Hadi.

"But since we had declared our 13th and 14th reduction, we have been noticing international prices have stabilised… between $40 and $50 a barrel. And it may take longer time for us to know, evaluate and decide whether we can proceed for a 15th reduction or not and for how much," said Hadi.

International prices of crude oil had reached their peak of $147.27 in July 2008 on the New York Mercantile Exchange, but Dubai-based oil retailers Emirates General Petroleum Corporation (Emarat), Emirates Petrochemical Products Company (Eppco) and Enoc refer to the Brent Crude Oil Index in London.

The hike in prices has caused diesel prices at pumps of the three retailers in Dubai and the northern emirates to soar to Dh19.25 in summer.

But since then, international prices have been declining sharply bringing the prices for crude to the $30s range in New York and to the $40s in London.

The recent reduction of diesel prices at the pumps in Dubai and the northern emirates have brought prices to where they currently stand now at Dh10.85 a gallon.

Meanwhile, diesel prices have remained unchanged at Abu Dhabi National Oil Company's pumps in Abu Dhabi and its outlets in the northern emirates at Dh8.60 a gallon.

The three retailers co-operate and agree on setting diesel prices at pumps through their outlets across the UAE.

In response to a question by Emirates Business on whether international prices for crude oil may reach $100 by the year 2010, following reports from the region and reports on China's current need for more import of crude oil, Hadi said: "I strongly believe, and since we refer to the Brent Crude Oil Index, the prices of crude oil will stay around the average of $40 to $50.

"They may go a few cents or dollars above or below this range, but they will remain around this range towards the end of the year."

"Lets be pragmatic and realistic of what is happening around us, there is a global recession and many sectors that need crude oil to run their businesses are slowing down their activities and so their consumption for crude oil drops. There will be those who will give their predictions and forecasts, but facts are facts and realities are realities on the ground. And if we say a change in this situation would take place, it may not take place until 2010, but when in 2010 no one knows and no one should predict so," added Hadi.

Emarat could not be contacted for comment.
Follow Emirates 24|7 on Google News.