Doom means boom for oil spill response companies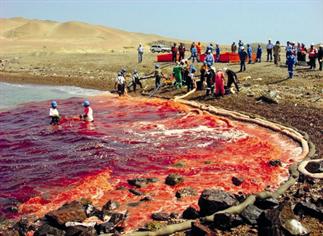 As almost every sector involved with oil sector fights a downward spiral, an associated industry has reported 2008 as one of its best years of performance. Companies working on oil spill response (OSR) affirm that not only has their immediate past been stable, but they also see a future sans hiccups.

There were 36 oil spills in 2008, industry insiders maintain and point out that this brought a "lot of business".

"Willful puncturing" of oil pipes has emerged as another reason for oil spills in recent years, industry insiders reveal.

"I would say that the best year of our performance was 2002 when the Prestige ship sank near the Spanish coast. If you ask me to list the other years of good performance, they will all be the years when there was a major disaster at the seas," says Stuart Duncanson, Director (Sales) at Markleen, an OSR company based in Spain. The Prestige was an oil tanker whose sinking in 2002 off the Galician coast caused a large oil spill. The accident polluted thousands of kilometres of coastline and more than 1,000 beaches on the Spanish and French coast. It caused substantial damage to the local fishing industry. This is often termed the largest environmental disaster in Spain's history.

Duncanson says although no concrete estimate of the growth of this sector is available, the sector has enjoyed a stable growth over the years.

The "business-areas" for oil spill industry are not the waters with hydrocarbon resources in their underbelly, or the coastlines of consumption markets but the territories where natural and man-made factors have made naval transport difficult. These companies identify long West African coast, the Gulf of Aden, the Chinese coastline, South East Asian and the Russian coasts as their potential markets.

Though it is in the Gulf, where the largest spill of oil totalling 1,500,000 tonnes of toxic oil took place during the Gulf War in January 1991, this region has emerged as relatively safe in the past 10 years.

"It's primarily because most of the countries in the region have become environmentally conscious. They have been able to control the high number of incidents, even though a majority of oil tankers pass through the region," says Bill Fernie, Managing Director of Ayles Fernie a UK-based company. Leaving the Gulf War aside, the biggest incident recorded is Ixtoc oil well spill in the Gulf of Mexico in June 1979, where about 480,000 tonnes of oil spilled into the Atlantic waters.

The growing strength of companies like Markleen becomes apparent in conference Offshore Arabia that was organised in Dubai recently. Most of the companies that exhibited their products at the conference were OSR companies.

Industry insiders reveal several factors that has been promoting the sector and keeping it immune from the volatility of the oil market. Besides the regular mishaps caused by tanker collisions and a variety of other accidents, steps being taken by governments across the world to meet environmental concerns has come as a shot in the arm for the sector. Heads of these companies point out that a number of government agencies, including Dubai Police, have begun equipping themselves with machinery that enables them to tackle oil spills.

"Awareness towards controlling oil spills has increased recently. Government agencies across the world have bought equipment to tackle spills near their shores. This includes Dubai Police, which purchased equipment that can be attached on naval patrol boats," says Fernie.

Fernie reveals a three-tier structure for the OSR industry. First, there are oil response firms run by large oil majors, followed by smaller players specialising in a particular methodology of oil spill response. Then there major oil response firms equipped with a fleet of ships, boats and airplanes that are put into operation in case of an oil spill. With a strong manpower and expertise these firms also provide training to the employees of oil majors. Three major conferences on oil spills are organised every year – in London, Singapore and Australia.

An oil spill control operation involves use of microorganisms that remove oil, controlled burning at spillage sites and use of dispersants. At times, spilled oil is also skimmed if the weather is calm. "There are companies that use airplanes to drop dispersants from airplanes. You have special ships that can do the same," says Fernie.

Oil Spill Response Limited (OSRL), a UK-based company is a co-operative formed by oil majors to control incidents of oil spills. The company's regional manager for the Middle East, Rob Self, says OSRL operates on an annual fee collected from the petroleum majors. "We have specialised equipment and staff that can respond quickly to a disaster. What makes us different from the subsidiaries of oil companies involved in disaster management is that we work on the subject for an entire year. That is how oil majors associate with us. They can call us whenever they need us," says Self.

Self adds that training of petroleum company employees has become a major area of operations in the past few days. "We keep organising such programmes throughout the year. At times, we also participate in joint exercises."

And it is not just the accidental spillage of oil on the high seas that brings business for these companies. Willful "drilling of holes" in oil pipelines to extract oil also ensures that companies like the OSRL get involved, says Self. The pipelines that transport oil from Azerbaijan to Turkey have been repeatedly punctured in recent past by tractor drivers to extract oil, he says. "These drivers drill a whole in the pipe, extract the amount of oil that they need and leave. Thereafter, oil keeps gushing out of the pipe. We have dealt with numerous such cases," he says.

An oil spill is a form of pollution that the world is tackling. Due to the increasing number of accidents on the high seas, the term has now begun to refer to marine oil spills, where oil is released into the ocean or coastal waters.
Follow Emirates 24|7 on Google News.