Enoc plans new Jebel Ali refinery to boost capacity to 100,000bpd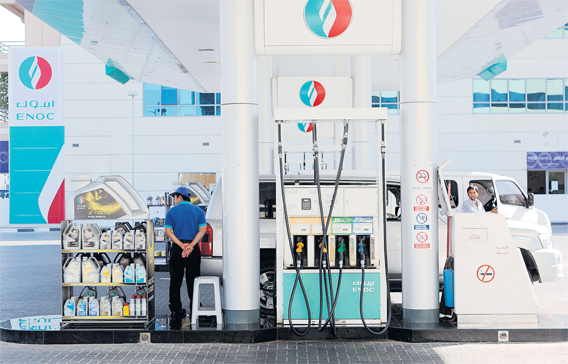 Emirates National Oil Company (Enoc) is planning to commission a new unit in its Jebel Ali-based refinery that would enhance its production capacity to 100,000 barrels a day by April this year, said the company's Chief Financial Officer Petri Pentti.
Speaking on the the sidelines of Marsh National Oil Companies conference in Dubai yesterday, Pentti said: "We are looking forward to commissioning it by spring this year."
While naphtha that has found increasing preference from the petrochemicals industry as a feedstock will account for half of the refinery's production, about 33 per cent of it will be jet fuel, Pentti said. "The rest will be diesel and other distillates," he said. The refinery is currently functioning at a capacity of 65,000 barrels a day, Pentti said.
On the other hand, the Vopac Horizon (VH), the Fujairah-based company in which Enoc has a 30 per cent stake, will be floating the tender for its 600,000 cubic metres storage capacity phase-six project "relatively soon", Pentti said.
"However, we have not taken any decision regarding the project of reclaiming land in front of the project."
VH is a joint venture between the Fujairah Government (20 per cent stake), Enoc subsidiary Horizon Terminals Limited, Vitol (10 per cent), Kuwait's Independent Petroleum Group IPG (10 per cent) and Royal Vopak, which has a 30 perc ent stake and is responsible for the daily operations and management of the terminal.
Horizon Terminals Limited (HTL) was incorporated in 2003 as a limited liability company in Bahamas.
HTL is wholly owned by Enoc Group.
VH started operating in 1998 in Fujairah with a storage capacity of 500,000 cubic metres. It will have a storage capacity of 2.1 million cubic metres when the sixth phase is complete, Pentti said.
The company which has assets of $6 billion (Dh22bn) globally earned a revenue of $8.5bn last year. Enoc expects higher revenues this year, Pentti said. "Our revenue declined in 2009 because of lower oil prices. We expect it to rise in 2010."
The refinery margins have, however, declined with the increase in oil prices, said the Enoc's chief financial officer. "The margins go into negative as far as gasoline is concerned," he said.
Keep up with the latest business news from the region with the Emirates Business 24|7 daily newsletter. To subscribe to the newsletter, please click here.
Follow Emirates 24|7 on Google News.