Flexible gas supply deals to reduce glut in Europe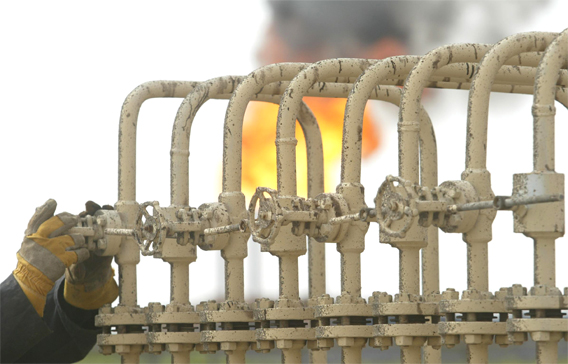 Europe's gas glut should shrink and some utilities become more profitable under more flexible Russian supply deals that pile pressure on Algeria to make some concessions to its customers.
Most gas delivered to continental Europe by pipeline has been linked to oil for decades, with buyers and sellers happy with the six-month outlook their contracts gave in the absence of liquid spot gas markets.
Weak industrial demand in the economic crisis and plentiful supplies of liquefied natural gas (LNG) have swelled Europe's spot markets, driving prices well below oil-linked levels, slashing oil-indexed gas sales and forcing buyers to resell some contracted fuel at a loss.
"It's an intolerable situation both for some of the buyers and for sellers that spot prices are so different from oil-indexed prices at the moment," said Noel Tomnay, principal gas analyst at consultants Wood Mackenzie, which sees Russia having to rely more on sales to Asia to counter flagging European demand.
"Once we have seen Norway do this, now we see Russia doing this, will the next thing we see be Algeria doing this? It does like what we have got here is a house of cards coming down."
Norway's Statoil, which has always been more open to spot-market pricing than Gazprom or Algeria's state-owned Sonatrach, said in early February it had reduced obligatory volumes delivered under existing contracts and given customers the option to pay spot prices for it or not to take it at all.
State-controlled Gazprom, which until the glut supplied a quarter of Europe's gas, has also agreed to defer some deliveries for three years with at least one of its customers, E.ON Ruhrgas, offering the German giant gas it takes above the new minimum level at spot. "In order to stimulate offtake we offered some of our clients spot indexation for small portions over take or pay obligations," Sergey Komlev, Gazprom's head of contract structuring said at a gas conference in Amsterdam on March 3.
An executive from Italy's Eni also said last month it had reached a "satisfactory" agreement with Gazprom on its take-or-pay contracts.
Eni also gets Algerian gas by pipeline and analysts expect it to push for a better deal. Sonatrach, which sells occasional spot cargoes of LNG to Europe, has said it will not let its long term customers get fuel at spot prices.
But with Europe's other big suppliers both offering an oversupplied market fuel at spot prices because they could not otherwise sell it, Sonatrach may have no choice if it wants to sell more than minimum levels over the next few years in Europe. A corruption scandal that has unseated the company's leadership could hinder any top-level negotiations with buyers.
Oil prices have recovered from below $33 in February 2009 to about $80 a barrel, but spot gas prices in Europe have slumped in the economic downturn and stayed low, with the oversupply expected to last for some time.
Komlev said 2010 was likely to be "equally challenging" as 2009 and that the price divergence between oil indexed contracts and spot market prices would remain in place.
Keep up with the latest business news from the region with the Emirates Business 24|7 daily newsletter. To subscribe to the newsletter, please click here.
Follow Emirates 24|7 on Google News.