G7 gaining most from oil hikes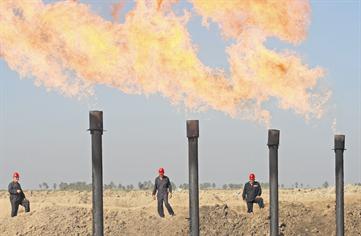 Developed countries are the main beneficiaries of high oil prices as their earnings from tax on hydrocarbon sales to end users sharply surpass revenues of Arab crude producers, according to official data.

During 1996-2000, the combined oil export income of the 10-nation Organisation of Arab Petroleum Exporting Countries (OAPEC) totalled about $584.2 billion (Dh2.14 trillion) while the income of G7 nations from tax on oil sales to end consumers was as high as $1,300bn, the OAPEC said in a study published in its quarterly bulletin.

During 2003-2007, the OAPEC's collective income soared to around $1,483bn because of a surge in crude prices and output by members while G7's earnings jumped to nearly $2,585bn, nearly double the Arab group's revenues.

"It is worth mentioning that earnings achieved by the G7 are considered as net profits while those of OAPEC members are not, because they include costs of exploration, production and transport," the Kuwait-based OAPEC said.

"This clearly demonstrates that the main beneficiaries from high oil prices are the governments of developed nations, especially those that impose high taxes."

Leap in revenues of big oil firms

The report showed the income of Arab crude exporting countries was also far outpaced by the revenues of the world's largest oil companies – ExxonMobil, Royal Dutch Shell, British Petroleum, Chevron Texaco and Total.

From around $667.9bn in 1997, the combined income of these firms leaped to nearly $1,802bn in 2008, when crude prices climbed to their highest average of around $95 a barrel, the OAPEC said.

The organisation's earnings grew from about $110bn to $617bn in the same period but they remained dwarfed by those of the five energy giants.

"When comparing the income of the five giants with those of OAPEC member countries, we can notice that they were nearly six times in 1997…despite the sharp rise in the Arab income in 2008, the revenues of those companies were as much as triple those of OAPEC producers in 2008," the report said.

However, the report pointed out that these firms are heavily taxed by their respective governments, paying a total $24.5 bn in 1997 and as high as $90.6 bn in 2007.

It noted that the combined proven oil reserves of these companies stood at around 30 billion barrels at the end of 2007, below five per cent of the OAPEC's recoverable crude deposits.

Although their reserves accounted for only 2.6 per cent of the world's total oil resources, these companies pumped around 10 million barrels per day, accounting for nearly 15 per cent of global crude supplies. "This raises the question again about those who are the main gainers of high oil prices….while OAPEC countries control nearly 56.6 per cent of the world's proven oil reserves and produce around 25 per cent of the global crude supplies, those five giants and the industrial nations control only 5.2 per cent of the world's oil wealth and their production is equivalent to the OAPEC's output," the report said.

OAPEC has lowest production costs

According to the report, the costs of oil production in OAPEC is the lowest in the world, standing at only around $1 to $2 a barrel. This compares with $3 to $4 a barrel in most other Organisation of Petroleum Exporting Countries (Opec) members, over $5 a barrel in Venezuela and Nigeria, $1.5 to $4.8 a barrel in Russia (excluding costs of transport to export terminals), $12 to $13 a barrel in the Caspian Sea, $11 a barrel in the North Sea and $10 to $12 a barrel in Canada's tar sands.

"Gulf countries enjoy the lowest production costs in the Arab region and Opec. For example, such costs in Saudi Arabia average about $1.5 a barrel as against the world average of $5 a barrel," the OAPEC said.

"The costs of hydrocarbon exploration in the kingdom are also the lowest in the world, standing at around 10 US cents against $4 a barrel in other regions."

Although the introduction of advanced technology has kept production and exploration costs low in the Arab region, these have increased steadily in other areas, growing by an average 10 per cent a year from about $4 a barrel in the early 1990s to $7 a barrel after the year 2000, the OAPEC said.

It attributed the rise in costs to the fact that many oilfields get old and require more injections of water and gas as well as steam, carbon dioxide and other gases.

"Costs of production in the Middle East and other areas vary largely according to the location of the oil reserve…for example, such costs in difficult areas and layers could reach between $19 and $30 a barrel, mainly in the North Sea and Russia. In deep water off West Africa, the costs could reach $70 a barrel while these could be as high as $114 a barrel for Venezuela's heavy crude," it said.

"In the Middle East, the costs are much lower even in difficult areas as these could average around $7.15 a barrel. Costs in the Arab region cover three sectors – exploration, production and shipping….these range between $3.6 a barrel and $10.7 a barrel involving 57 per cent for production, 28 per cent for exploration and 15 per cent for transport to export terminal, shipping and other logistics services."

Oil reserves

In a separate study, the OAPEC estimated the total Arab proven oil reserves at around 672 bn barrels at the start of 2009, but said about 175 bn barrels remained undiscovered while total hydrocarbon deposits in place could be nearly 645 bn barrels higher than the world's total recoverable crude resources. The report also put the cumulative Arab oil production at 302 bn barrels.

"Assuming an extraction rate of 35 per cent, the Arab oil deposits in place could reach 2,738 bn barrels. This means the oil quantities that cannot be extracted by present technology are around 1,809 bn barrels, which are nearly 645 bn barrels above the world's proven oil resources….these quantities, if they can be extracted, will meet the world's needs for 60 years …even if only 10 per cent of them could be extracted, they would be enough for seven years."

The report showed four Gulf Co-operation Council (GCC) countries – the UAE, Saudi Arabia, Kuwait and Iraq – controlled about 50 per cent of the world's recoverable oil potential and more than 86 per cent of the total Arab crude reserves.

But it noted that large quantities of oil and gas remained undiscovered or undeveloped in the region, totalling around 175 bn barrels of oil, 43,368 bn cubic metres of natural gas and 67 bn barrels of gas liquids.

UAE's undiscovered reserves

In the UAE, undiscovered hydrocarbon reserves were put at around 7.7 bn barrels of crude oil, 1,261 bn cubic metres of natural gas and 2.4 bn of gas liquids. They were estimated at 87.1 bn barrels of oil in Saudi Arabia, 18,158 bn cubic metres of gas and 48.9 bn barrels of gas liquidity.

In Kuwait, undiscovered reserves were estimated at about 3.8 bn barrels of crude, 194 bn cubic metres of gas and about 0.2 bn barrels of gas liquids. In Iraq, they were estimated at 54.1 bn barrels of oil, 9,000 bn cubic metres of gas and around 6.2 bn barrels of gas liquids.

The figures also showed the UAE's oil and gas resources accounted for 14.6 and 11.3 per cent of the total Arab oil and gas deposits, while Saudi Arabia, the world's dominant oil power, controlled 39.3 and 13.6 per cent respectively. Qatar controlled 46.9 per cent of the Arab gas reserves.

Although they have pumped in excess of 50 bn barrels of oil during 2003-2008, Arab oil producing countries have managed to increase their crude reserves by around 14 bn barrels from 658 bn to 672 bn barrels, according to the OAPEC.

The increase was a result of new discoveries in some member states, development of major fields and introduction of advanced technology. Most of the increase was achieved in Sudan, where oil reserves jumped from less than one bn to five bn barrels. The rest came from Saudi Arabia, Kuwait and Libya, where they grew by around two bn barrels each.

Gas reserves swelled by nearly 1.7 trn cubic metres and the bulk of the increase came from Kuwait, Saudi Arabia and Egypt, the report said.

OAPEC calls for fair prices

Formed 42 years ago, the OAPEC groups the UAE, Saudi Arabia, Kuwait, Qatar, Bahrain, Iraq, Syria, Egypt, Libya and Algeria. The group has often responded to complaints by oil consumers about high crude prices, saying producers need fair prices and strong demand to keep capacity expansion plans on track and arguing that oil remains cheaper than perfume.

When oil prices surged to a record high of close to $150 a barrel in July 2008, the prices were still below 0.1 per cent of the cost of a barrel of premium perfume, it said.

At present, levels of around $70 a barrel, the price of crude oil is nearly $55 below the price of a barrel of milk in industrial countries and less than a fifth of the price of a barrel of soda water, said the Kuwait-based group, which controls around 670 bn barrels of oil and pumps over 20 million barrels per day of crude.

"The price of a barrel of crude oil reached at its best a level which is slightly higher than the price of a barrel of milk…but it then dipped far below that price and is now below the prices of milk, soda water and many other commodities."

While the price of home-made coffee at about $50 a barrel is now less than that of oil, the price of a barrel of coffee offered at a coffee shop could be as high as 40 times the current price of a barrel of oil, the organisation said.

"The price of a barrel of coffee at a coffee shop is now about $3,000, more than 40 times the price of a barrel of oil," it added.
Keep up with the latest business news from the region with the Emirates Business 24|7 daily newsletter. To subscribe to the newsletter, please click here.
Follow Emirates 24|7 on Google News.