Gulf-India forum to discuss joint projects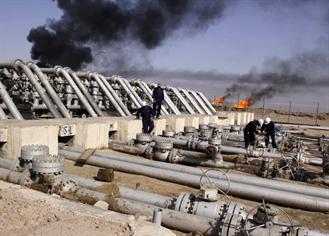 More than 300 officials and businessmen from Gulf oil producers and India will meet in Saudi Arabia in mid-2010 to discuss joint projects and opening up of their markets to each other's products, officials said yesterday.

The Gulf-India Forum to be held from June 14-16 in the Red Sea port of Jeddah will bring together seven ministers of trade and industry as well as senior officials and delegates from banks, chambers and other establishments from the two sides.

It follows statements by senior Gulf officials that regional countries should focus on their Asian economic partners after they were rebuffed by their largest trading partner, the European Union, over their bid to sign a free trade agreement.

The officials from the six-nation Gulf Cooperation Council (GCC) have accused the EU of deliberately blocking the FTA with their countries by imposing political conditions which they said have nothing to do with their economic talks.

"The forum is aimed at exploring investment opportunities, expanding markets for both sides and supporting small and medium projects and technology programmes, " said Mustafa Sabri, Secretary-General of the Jeddah Chamber of Commerce and Industry, which is hosting the conference.

"India is now one of the main economic and commercial partners of the GCC and has been a major supplier of skilled labour to the region for more than 30 years. More than five million Indians now work in the GCC countries."

Sabri said the two sides also maintain strong political and cultural relations but added they need to exert more effort to expand their economic and investment partnership. He said India has become one of the fastest growing economies and that Gulf nations should take advantage of this and invest in the Subcontinent.

"As it is the second largest populated nation on earth, India is one of the largest consumer markets. We both need to work to exploit our market potential and forge a common ground for a strong partnership that includes opening up of our markets to each other, setting up joint ventures and boosting energy cooperation. India needs the Gulf countries for its oil and gas supplies and we need Indian labour, products and technology in various fields."

India has been locked in a drive to expand its share in the lucrative GCC market and such a campaign has already paid off, with the south Asian country becoming one of the top trading partners of the 29-year-old Gulf alliance.

Official figures showed the GCC is now India's second largest trading partner and the largest single origin of imports into India.

Bilateral trade more than quadrupled from $5.55 billion (Dh20.3bn) in 2000-2001 to $23.42bn in 2005-2006. It continued to record high growth in the following years to peak at around $45bn during 2008-2009 fiscal year.

The figures by the Indian Department of Commerce showed the UAE imported more than $16bn worth of goods and services from India during fiscal year 2008-2009 to become its second largest market in the world.

Its exports to India were also close to $17bn between April 2008 and February 2009 to emerge as the largest exporter to India after Saudi Arabia.

From around $16.55bn during April 2007-February 2008, India's exports to the Emirates climbed by about 17.9 per cent to a record $17.99bn in the following corresponding period to catapult the UAE to the second position after the US on the list of global importers from India. The increase boosted the share of the UAE's imports from India to a record 10.8 per cent of the south Asian country's total exports of nearly $153bn during April 2008-February 2009, the figures showed.

Saudi Arabia's exports to India grew by around 7.3 per cent to $18.66bn from $17.34bn in the same period.

Oil and petroleum products account for the bulk of the exports by the UAE and Saudi Arabia to India and analysts said the surge in the UAE's exports to Subcontinent through 2008 was mainly because of a sharp rise in crude prices.

The figures showed India is also a key trading partner of the other GCC members, with its exports to Kuwait standing at around $699m during April 2008-February 2009. In a recent lecture in Abu Dhabi, an Indian minister said New Delhi is seeking an enduring relationship with the GCC involving stable oil supplies.
Keep up with the latest business news from the region with the Emirates Business 24|7 daily newsletter. To subscribe to the newsletter, please click here.
Follow Emirates 24|7 on Google News.