Higher oil revenues to help GCC GDP rebound by 5.1% this year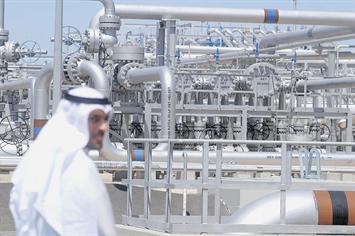 The economies of the UAE and neighbouring Gulf oil producers will rebound by nearly 5.1 per cent in real terms this year after growth in 2009 dipped to its lowest level in nine years, a key Saudi bank said yesterday.

Although the six Gulf Co-operation Council (GCC) countries are not expected to sharply increase their crude output in 2010, this will be offset by a rise of nearly 20 per cent in oil prices, allowing governments to keep up public spending and stimulate growth, the Saudi American Bank Group (Samba) said in a new study.

Samba said higher oil prices could fetch the six members about $64 billion (Dh234.88bn) in additional revenue this year and this will allow public spending to offset slackening domestic credit and private investment.

The report projected average oil prices at about $75 in 2010, nearly 20 per cent above their 2009 level of $60 but far lower than the record $95 average in 2008.

In another study, a key Arab League institution said the six GCC nations basked in their best period in 2008 in terms of GDP per capita income and expected the level to rebound this year after a decline in 2009.

The study by the Kuwaiti-based Inter-Arab Investment Guarantee Corporation (IAIGC) showed Qatar remained the wealthiest Arab nation while the UAE maintained its position as the second richest. Saudi Arabia emerged as the least wealthy in the GCC despite its immense oil potential.

Higher growth

"Although there appears to be limited scope to raise production, oil revenues will still rebound strongly in 2010 in line with the projected 20 per cent increase in prices. Total GCC hydrocarbon export earnings are projected to rise by close to $64bn above the 2009 level," said Samba.

It said this would expand current account surpluses in the region, and allow for sustained fiscal surpluses despite still strong public spending plans.

But Samba excluded Saudi Arabia, which it said could suffer from a budget deficit of around 2.8 per cent of the GDP because of a surge in expenditure.

"While real growth in the GCC oil sector will be constrained by Opec output quotas, there will be a positive impact as output creeps up, and from new investment activity in the hydrocarbons sector," said the report.

"Without the drag from falling oil output as experienced last year, sustained growth in the non-oil sector is expected to be reflected in a sharp recovery in GCC real GDP growth to more than five per cent in 2010."

It said residual strains in some real estate and financial sectors would dampen domestic credit growth and private sector activity, but added this could be mitigated by a general recovery in the global economy which will boost export demand and support a revival of capital inflows.

"Besides, bolstered by higher revenues, many GCC governments are expected to sustain robust counter-cyclical policies. Higher oil revenues will also help push nominal GDP of the GCC back up to $972bn."

Nominal GDP

Samba's figures showed the combined nominal GDP of the GCC countries, which control about 45 per cent of the world's extractable crude wealth, hit an all time high of about $1.054 trillion in 2008 after oil prices climbed to their highest average and their crude output was near capacity.

The decline in both prices and production depressed their GDP to about $841bn in 2009 while real GDP grew by only about 0.8 per cent compared with as high as 7.2 per cent in 2008.

Samba said lower oil prices and supplies slashed the GCC's fiscal and current account balances but added most of them remained in surplus, allowing some replenishment of external assets initially drawn down when the global crisis hit.

"However, despite the positive, albeit slower, growth momentum in non-oil sectors, overall GCC real GDP growth was dragged down by the reduction in oil production, essentially stagnating at 0.8 per cent in 2009," said Samba.

"Developments during 2009 have served as a reminder that while the GCC states are in the midst of an impressive economic transformation which is fuelling strong non-oil growth, their economies remain heavily dependent on oil and gas sectors. These continue to account for more than a third of economic output, and more than three quarters of budget revenues and export earnings."

Oil revenues

The report noted that oil export revenues are a vital source of finance for the economic transformations underway in the GCC countries, and underpin the public sector's large infrastructure developments.

"They are also a major driver of liquidity, and oil price fluctuations have a large influence on consumer and investor confidence. The extent to which the GCC can sustainably build on the economic recovery momentum currently underway will thus be substantially influenced by developments in the global oil markets."

Samba's forecasts showed the GCC's combined oil output could rise by about 300,000 bpd in 2010 after plunging by nearly 1.7 million bpd in 2009.

The increase in output and prices in 2010 will likely push their total crude export earnings to about $395bn from nearly $331bn in 2009. But they will remain far lower than the record income of $581bn achieved in 2008.

Higher per capita

In its study about the GCC wealth, IAIGC said the increase in the collective per capita income in the Gulf group this year would be mainly a result of higher oil prices despite an increase of nearly one million in the population.

The report showed Saudi Arabia is the least wealthy in the GCC although the kingdom's recoverable crude oil resources far surpass the combined proven oil wealth in all the other members and is in control of more than 20 per cent of the world's total extractable oil reserves.

Qatar maintained its position as having the highest per capita income in the GCC and the entire Arab region and is projected to retain that position this year. The UAE emerged as the second wealthiest in the region.

Despite an increase of about 1.3 million in the GCC's population in 2008, the surge in oil prices to record high average of about $95 boosted the Gulf group's combined GDP per capita to its highest level of $28,424, showed the figures by the Kuwaiti-based Inter-Arab Investment Guarantee Corporation (IAIGC).

The decline by about $35 in crude prices in 2009 allied with slower GDP growth and an increase of nearly one million in the population to depress the per capita income to nearly $22,878 during that year, said IAIGC.

But the income is projected to climb back to about $26,228 in 2010 because of an expected increase in oil prices and consequently acceleration in GDP growth rates, said IAIGC, a key Arab League financial establishment.

UAE and Qatar

A breakdown showed Qatar was the richest in the region and one of the wealthiest in the world in 2008 and 2009, with its per capita income standing at a record $93,204 and $75,956 respectively.

IAIGC forecast per capita to hit a new record high of $94,783 in 2010 as the country is pushing ahead with projects to attain its target to produce 77 million tonnes of LNG per year.

The UAE, which controls the world's fifth largest oil and gas deposits, had the second highest GDP per capita of $55,028 in 2008 and $46,584 in 2009. It is likely to rebound to $50,688 in 2010.

The figures showed Kuwait was the third richest in the GCC and the Arab region, with a GDP per capita of about $45.920 in 2008 and $32,491 in 2009. Per capita is projected to climb again to nearly $37,536 in 2010.

Although it is not an oil exporter and its crude resources are negligible, Bahrain emerged as the fourth wealthiest Arab nation, with its per capita standing at about $27,248 in 2008 and $24,355 in 2009. IAIGC expected the level to grow to nearly $26,598 in 2010 due to the GDP rise and slow population growth.

Oman came fifth, with a per capita of $21,646 in 2008 and $18,718 in 2009. The income is projected to climb to about $21,134 this year.

Saudi Arabia's per capita income stood at about $18,855 in 2008 and $14,871 in 2009, the sixth highest income in the region. IAIGC expected the kingdom's per capita to recover to around $16,297 in 2010 as a result of higher GDP growth spurred by an expected rise in oil prices and output.

Experts said Saudi Arabia, the largest Arab economy, was the least wealthy in the GCC because of its relatively high population. It had the fourth highest per capita in previous years but lagged behind due to a rapid population growth.

Population

The figures showed the GCC's combined population stood at about 37.8 million in 2008 and grew to nearly 38.8 million in 2009. At the end of 2010, the population is expected to gain another one million to peak at 39.8 million.

The report showed the population of all GCC members increased in 2009 except that of the UAE as it dipped by around 900,000 at the end of the year. But it is expected to rise again to nearly 5.065 million this year from 4.65 million at the end of 2009 and about 5.5 million at the end of 2008.

Saudi Arabia's population is projected to increase to 26.2 million in 2010 from 25.5 million in 2009 while that of Kuwait will grow to about 3.6 million from 3.5 million. The population is expected to increase to 1.4 million from 1.2 million in Qatar and remain almost stable at 2.8 million in Oman and 800,000 in Bahrain.
Keep up with the latest business news from the region with the Emirates Business 24|7 daily newsletter. To subscribe to the newsletter, please click here.
Follow Emirates 24|7 on Google News.