Ipic tasked to establish three-way JV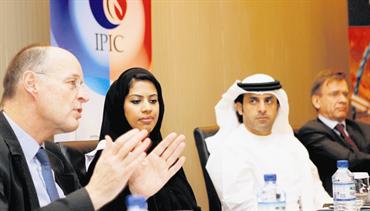 The Government of Abu Dhabi has tasked International Petroleum Investment Company (Ipic) to establish a three-way joint venture for a $70 billion (Dh256.9bn) petrochemical portfolio.

Khadem Al Qubaisi, Managing Director of Ipic, said a joint venture will be formed with Abu Dhabi Investment Council (Adic) and Abu Dhabi National Oil Company (Adnoc) with an investment of $20bn in the first phase of five years.

"The company called Abu Dhabi National Chemicals Company (Chemaweyaat) is currently in the process of establishment. Both Ipic and Adic will have 40 per cent stakes each with Adnoc having 20 per cent in the company. The details of Chemaweyaat and its initial projects will be announced by the end of this month," Qubaisi said. He said the company will be developed in three phases with phase one witnessing $20bn of investment in diversified areas of petrochemical industry and by the end of the phase three it will be a company having $70bn worth of projects.

Al Qubaisi also said Chemaweyaat will be working in partnership with MAN AG Group of Germany, which sold 70 per cent of its subsidiary MAN Ferrostaal stakes to Ipic.

"MAN Ferrostaal and Ipic-MAN Ferrostaal (IMF) both will have a chunk of the projects. It will invest up to $2bn in the first phase petrochemical projects in the Caspian Sea states."

He also said the new joint venture and acquisition of MAN stake will help Ipic to diversify its businesses from oil and gas to wider range areas with its stake in Aabar, which has entered into finance and real estate businesses, acting a driving vehicle to achieve it.

Al Qubaisi further explained Ipic, which as of today has a portfolio of up to $15bn, also plans to enter into marine services and shipping businesses as part of its diversification strategy. "As of now our portfolio is between $12bn and $15bn, and in the next five years we see it expanding to $20bn," he said.

About liquidity, Qubaisi said so far Ipic had no problem with finances and will continue with its planned projects despite of the global meltdown.
Follow Emirates 24|7 on Google News.