Iran to sell diesel to Iraq despite US curbs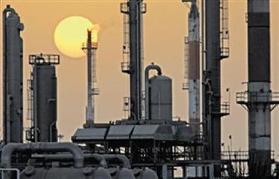 Iran has secured a deal to export about 19,000 barrels per day (bpd) of diesel to Iraq this year, industry sources said yesterday.

The deal shows Iran is confident it can not only sidestep the threat of US sanctions against suppliers of fuel for its own use, it can even act as a trader by selling fuel to its neighbour. The contract would begin in January, sources said, unseasonal for Iranian diesel exports.

The country's exports typically take place in the period of slower domestic power demand from April through the summer. The deal would run through the rest of the year, the sources added.

"We have a long-term contract [with Iraq]… this is over and above our exports during the spring season which stays within the Persian Gulf," a source familiar with the deal said, declining to provide more details.

Traders said the deal could be worth anything between $500 million (Dh1.83 billion) and $600m.

Iran cut its diesel consumption sharply last year, when increased domestic natural gas production allowed it to substitute natural gas in power generation and burn less diesel.

Iran imported between 600,000 and 900,000 barrels of diesel monthly between September through December in 2009, traders said. In December, Iran purchased around two million barrels of diesel from Singapore trader Hin Leong.

Tehran had originally not allocated funds for diesel imports in its budget for the year ending March 21, 2010, forecasting it would meet local requirements due to higher gas production.

But the Opec member had to resume imports in September due to disruptions in piped gas supply into the country. In 2010 Iran expects up to one billion cubic feet per day (cfd) come online from the third phase of the giant South Pars gas field, being developed by Norway's StatoilHydro.

"The country should have some incremental flows from South Pars to feed condensate splitters which may be substituting for diesel [gas oil] in some uses," said Jamie Webster, a senior consultant at PFC Energy.

"This may free up some diesel for export."

Iran, the world's fifth-largest oil exporter, lacks the refining capacity to meet domestic fuel consumption and relies heavily on imports from international markets to plug the gap. Iran was likely to source part of the fuel needed to service the diesel supply contract with Iraq from international markets.

"The Iranians are smart, they are going to make some money off this deal," a Middle East based trader said.

"They will buy from Hin Leong or other traders looking to offload the oil from storage and then sell that into Iraq and make a bit of money." Imports are a sensitive subject for Iran as they are a potential target for the United States for sanctions aimed at halting Tehran's nuclear programme.

The diesel Iraq is importing was expected to be used in power stations, traders said. Utilities in Iraq can take diesel with a sulphur content of up to one percent, they said.

"They can do anything in that range… most of this will go to burn in the power stations, Iraq is not very stringent on the specs they buy," a trader said.

Diesel produced from the country's petrochemical plants, also known as heavy ends, could be another source for exports.

"We see more production of heavy ends which is a high sulphur grade of diesel makeup, this can also be part of the supply mix being exported to Iraq," a Middle East-based trader said. The fuel will be delivered by trucks and coastal tankers, sources said.

Years of war in Iraq has ravaged its ability to produce enough fuels like gasoline and diesel to meet growing domestic requirements forcing it to buy on the international spot market. Traders said it was hard to estimate how much diesel Iraq imports, due to a lack of transparency and because of smuggling.
Keep up with the latest business news from the region with the Emirates Business 24|7 daily newsletter. To subscribe to the newsletter, please click here.
Follow Emirates 24|7 on Google News.