Iraq unlikely to meet oil target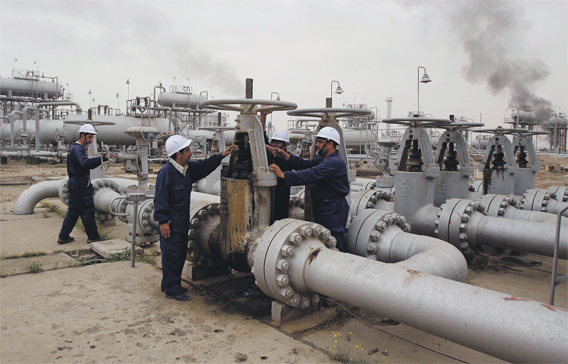 Iraq will not be able to produce 10 to 12 million barrels of oil a day in a foreseeable future, said analysts.
Such a production target for the country set by its politicians to be achieved in the next six years is expected to upset Opec supply equations. Although the country's Oil Ministry has awarded a series of prominent contracts in recent months, a plethora of loopholes continue to plague the country thus deterring investments, officials from insurance firms and think tanks said.
"Iraq continues to grapple with some very serious problems. I will be surprised if they are able to achieve a supply level of 10 to 12 million barrels a day in a foreseeable future," Herman T Franssen, President of International Energy Associates, a Washington-based company, told Emirates Business.
Iraq has total oil reserves of about 115 billion barrels. The country currently produces about 2.3 million barrels of oil a day.
Franssen said: "Iraq does not have the required infrastructure – ports or pipelines to be able to transfer such huge volumes of oil."
The first impediment in the country's quest for achieving higher volumes of oil production and export would come if the country attains a production capacity of 3.8 million barrels a day, Franssen said.
"That's when Iraq's production will match the quota fixed for Iran. And considering the traditional rivalry between the two countries, Iraq will face difficulties in raising its output further," Franssen said.
Iraq has awarded 10 oil projects to foreign consortiums so far. While three contracts were awarded out of auctions held the last year, seven were awarded recently.
The projects are meant to enhance Iraq's oil production capacity to 12 million barrels a day in six years, a target about which the country's Oil Minister Hussain Al Shahristani and the country's Prime Minister Nouri Al Maliki have boasted about. Even the service contracts of these companies call for the production reaching such a level in six years. Work has not begun on any of these projects, analysts monitoring them said.
Luay Jawad, Director of Iraq Energy, a think tank that helps companies set up oil business in Iraq, said ports in the country are still a matter of talks.
Keep up with the latest business news from the region with the Emirates Business 24|7 daily newsletter. To subscribe to the newsletter, please click here.
Follow Emirates 24|7 on Google News.