Iraqi cabinet ratifies four major oilfield deals with foreign firms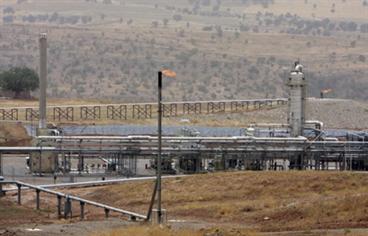 Iraq's cabinet has ratified contracts with foreign firms to develop four oilfields, pushing the country a step closer towards finalising deals that may make it a leading world oil producer, the government said yesterday.

"The cabinet has ratified four oilfields: Majnoon, Gharaf, and in Nineveh province Qayara and Al Najmah," said government spokesman Ali Al Dabbagh.

Last month, the Iraqi Oil Ministry initialled service contracts with seven foreign consortia to develop fields including supergiant Majnoon, which was awarded to Royal Dutch Shell and Malaysia's Petronas in a December energy auction.

The firms, part of a long-awaited wave of foreign investment in Iraq's promising oil sector, must now sign final deals before they can begin work. The deals represent a mainstay of Iraq's ambitions to transform its underperforming oil sector and bring output capacity to 12 million barrels per day (bpd), a huge rise from output now of around 2.5 million bpd.

The deals ratified were offered to foreign firms at a December 11-12 energy auction, Iraq's second this year.

Royal Dutch Shell and Petronas won the rights to Majnoon, a major field near Basra. Majnoon, whose reserves of 12.6 billion barrels make it one of the world's largest untapped fields, was one of the prizes on the block in that auction.

After a more tepid showing in an initial auction in June, Iraqi oil officials hailed the December auction as a major success.

Gharaf, a smaller oilfield with 900 million in reserves, went to Petronas and the Japan Petroleum Exploration (Japex).

Qayara and Najmah, located in Iraq's restive north, were both won by Angolan state oil firm Sonangol. The 800-million-barrel Qayara field is south of Nineveh province's capital Mosul, while nearby Najmah has around 900 million barrels.

There are three deals from Iraq's second bidding round that must still be ratified, including Halfaya, which was won by China National Petroleum Company (CNPC), Total and Petronas. Halfaya, in southern Iraq, has estimated reserves of 4.1 billion barrels. Badrah, a 100 million barrel reservoir, is another. Badrah went to Russia's Gazprom, Turkeys TPAO, Kogas and Petronas.

Last but not least is West Qurna Phase Two, which was won by Russia's Lukoil and Norway's Statoil. The supergiant field has reserves of 12.9 billion barrel.

After the deals were initialled, the government said it was seeking a number of technical amendments to the contracts. "Sonangol was the first firm to accept the proposed amendments followed by the other firms whose contracts were approved by the cabinet," said Sabah Abdul Kadhim, Head of the Legal and Commercial section of the Petroleum Contracts and Licensing Directorate.

He said responses from the other firms were expected by Thursday.
Keep up with the latest business news from the region with the Emirates Business 24|7 daily newsletter. To subscribe to the newsletter, please click here.
Follow Emirates 24|7 on Google News.