Irena plans solar, wind energy production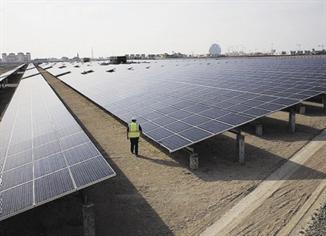 The International Renewable Energy Agency (Irena) is considering implementing projects to produce solar and wind energy in the UAE and the rest of the Gulf, Interim Director-General Helene Pelosse has revealed.

"Solar energy has a prosperous future in the UAE and the region," she told Emirates Business. "Irena has programmes in this regard that will be discussed and is keen to implement them. The GCC countries should take advantage of the sunshine and store solar power."

Pelosse was speaking at the launch of the agenda for a meeting of Irena's Preparatory Commission that will be held in Abu Dhabi on Sunday. Irena announced last year that it had decided to establish its headquarters in the capital.

She said the meeting – the first to be held by the commission in Abu Dhabi – will be attended by representatives of 138 Irena member-states after Belgium and Turkmenistan became affiliated a few days ago. In addition, observers from 15 states will attend, including teams from Saudi Arabia and China.

The meeting will discuss Irena's budget, its organisational structure and ways of attracting skilled staff and developing expertise. Delegates will review the experiences of some European countries in the renewable energy field and look at ways of benefiting from them. And they will discuss methods of merging renewable energy into economic life and applying governance regulations in Irena's work.

"The budget will range between $13 million (Dh47.7m) and $15m in 2010," added Pelosse. "This budget is low and inadequate, but we should confirm that Irena is not a financial institution or world bank. It will be the world's source of education and training about renewable energy."

"Abu Dhabi Fund for Development has pledged to provide facilities worth $50mn annually for seven years – a total of $350m – for renewable energy projects around the world. The value of these facilities might increase.

"Irena will be keen to market its projects in the world. It believes the production of renewable energy is not difficult and there are countries highly depend on it, like Portugal which obtains 70 per cent of its energy requirements from wind. Spain gets 50 per cent of its energy needs from renewable energy and China produces 20GW of electricity from the wind.

"Irena has succeeded in setting up its headquarters in Abu Dhabi and appointing employees from nine countries. It has received more than 600 job applications and will employ world's best renewable energy experts.

She said the agency had begun its renewable energy production projects with the Abu Dhabi Future Energy Company (Masdar). "Masdar's $20 billion investments will enable it to meet seven per cent of Abu Dhabi's energy requirements from renewables by 2020. I think Abu Dhabi will succeed in that.

"Global oil production will fall as oilfields become depleted. In addition the two key producers of oil do not have the ability to increase production. Therefore, the price of oil will rise and the world will depend more on the renewable energy, whose prices will be lower than oil prices.

"I think investment in renewable energy is more profitable and will provide many job opportunities. Renewable energy is a big mover of countries' economies, especially as it depends on modern technology."
Keep up with the latest business news from the region with the Emirates Business 24|7 daily newsletter. To subscribe to the newsletter, please click here.
Follow Emirates 24|7 on Google News.