Mulk eyes solar energy contracts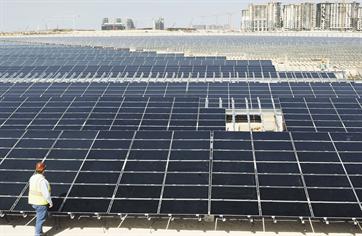 Mulk Renewable Energy (MRE), a subsidiary of Mulk Holdings, expects to sign solar energy production contracts over a few billion dollars in the next four years, according to its CEO.

"Our total investments in the initial stages require anything between $25 million to $40m to get the full range of products up and into the market and to the ROI stage. It is currently funded by our main business Mulk Holdings," said Saadullah Khan, CEO at Mulk Holdings.

Mulk Renewable Energy was formed to commercialise the Suntrof patent designed by Dr Melvin Prueitt, a physicist and an inventor of power production solutions from Las Alamos Lab.

"It is a startup that was set up in 3Q 2009. The important element is that it manages and cares about serious business of how energy will revolve in the future. Both Dr Prueitt, who has 40 new inventions to his credit, and Khurram Nawab of Mulk Renewable Energy are partners in this venture.

"We do have a facility in the US, which is managed by Suntrof Mulk, and most of the technology that we are using here is from the US. But all the technology that is researched into commercial applications will be prototyped, manufactured, tested in UAE, for which we must take great pride."

The next step is to get into exports. "We will be able to export most of these products within and beyond the region. Our first full size functional commercial demo pilot plant is located at Sharjah and we are currently establishing manufacturing facilities in the UAE and India to produce components of our parabolic troughs. The initial capacity per annum will be for a 200 MW capacity upgradable to 500 MW. Our first prototype should be ready for viewing by end-February," said Khan.

Demand has gone beyond expressions of interest from clients, he said. "They are past that stage and we are now talking about detailed contracts and we should be in a position to sign large contracts more than 200 MW and our initial interest from clients is above that figure and could run into few of billion dollars.

"We can produce and instal capacity of 600 MW of solar energy in the next three to four years."

The first manufacturing is based in Sharjah and spread over four hundred thousand square feet of land with a covered factory space of 150,000 square feet.
Keep up with the latest business news from the region with the Emirates Business 24|7 daily newsletter. To subscribe to the newsletter, please click here.
Follow Emirates 24|7 on Google News.